Team Member Spotlight: Gary Desnoyer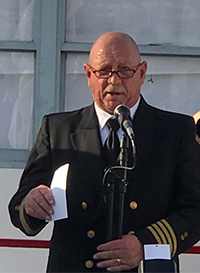 Today's Team Member Spotlight features Gary Desnoyer, Marine Operations Manager at the Riverboats at the Gateway Arch. As Manager and a licensed riverboat Captain, Gary wears many hats. His responsibilities include overseeing 17 team members, like the Riverboat Captains, Deckhands and Mates, who all work on the dock and on the Becky Thatcher and Tom Sawyer Riverboats, which are located on the St. Louis Riverfront. Gary pilots the boats for many of our one-hour and specialty cruises, and provides the passengers with detailed, historical narrations about the amazing views they see as they cruise along the mighty Mississippi River. Gary works behind the scenes to ensure the dock and riverboats are safe and kept in tip-top shape. He follows all of the U.S. Coast Guard, FDA and EPA regulations and works with the respective inspectors; makes electrical, plumbing and HVAC repairs and does the maintenance work to both of the boats' hulls to ensure passengers have a great cruise experience. He is also a member of the Coast Guard's Maritime Security Committee and is certified in many areas, including Marine Firefighting and CPR.
Gary enjoys working with our team members and networking with the passengers. He says, "I like interacting with my co-workers. We go through safety drills together and that allows me to get to know them better. I also like to talk with the patrons, answer their questions and just learn more about them." This may explain why Gary, who is also a minister, has legally married many couples aboard the riverboats over the years — officiating at least four weddings in the last five years. Gary says, "If you have not taken a ride on one of our riverboats or attended a dockside event, you are missing out on a very unique experience."
When he was in high school, Gary worked as a part-time Deckhand for the Streckfus Steamers Company. Two years later in 1978, he moved up as a Mate and worked in the Maintenance Department for the company. He received his Captain's license in 1991 and in 2001, when BSD purchased the Riverboats at the Gateway Arch, Gary became the Marine Operations Manager — and the rest is history. So what's next on the horizon for Gary? Well, he plans to retire on May 1 as a participant in our HERO early retirement initiative program. He said, "I am looking forward to playing a lot of golf." He says he will also be spending more time with his wife of 34 years, his four adult children and his six grandchildren. We wish Gary the best as he begins a new chapter in his life.