Team Member Spotlight: Regina Alphin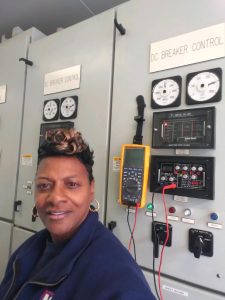 Regina Alphin works as a Traction Power Electrician for MetroLink, and is one of only three female electricians in the Traction Power Maintenance Department at the Swansea Facility in Illinois. She and the other Traction Power Electricians test and calibrate the equipment inside the 31 substations that are located along the Missouri and Illinois MetroLink system. The substations carry high-voltage electricity, which powers our MetroLink Light Rail Vehicles (LRVs). Regina's job is very hands on. She must drive to each substation to visually and manually calculate the distribution of electrical power, and troubleshoot and fix problems that may occur with the equipment, or make adjustments whenever there's an imbalance in the electrical load. She also walks along the MetroLink tracks looking for damaged equipment like problems with the poles or on the overhead catenary wires.
On a quarterly basis, Regina mounts a camera on top of an out-of-service LRV and works with another team member to ride the 'camera train' and monitor the catenary wire via the camera's video to ensure the tension of the catenary wire is proper. The job in general can be time consuming and requires a lot of patience. Regina says, "I love my job because it is challenging. While you never know what may happen during any of the four seasons, and especially during or after a storm, I really like how everything comes together from an electrical stand point on a daily basis." She said, "I also like working and conversing with my co-workers who are my work partners. I like the work relationship we have between us because we learn from and sharpen each other's skill sets." She also says it is pretty cool to be acknowledged by the public with a nod or a thumbs up when they learn she's an electrician, or when they congratulate her because they see a woman doing the job.
Regina's job can also be dangerous, but her electrical degree in Electric Mechanics coupled with her 20 years of service at our company continues to pay off. She thinks back to the year 2008 when she almost entered a substation that had faulty equipment. Twenty-two seconds later, the inside of the substation blew up, but her quick thinking kept her safe. Keeping the substations working in tip-top order means our LRVs can continue to safely move our customers throughout the 38 MetroLink stations along the 46-mile system.
Regina was one of the featured panelists who participated in the Women's History Month Zoom celebration on March 26. The virtual event acknowledged the contributions BSD women are making.
Prior to coming to BSD, Regina was a Chemical Operator at Pfizer for 11 ½ years. When she is not working, she is listening to her favorite music — Blues, reading, and of course, conversing. Prior to the pandemic, Regina did a lot of skating and traveling, and plans to get back to those hobbies once the pandemic ends. She also enjoys spending time with her husband of 28 years and her three adult children.
Click here to see the Women's History Month Zoom celebration.