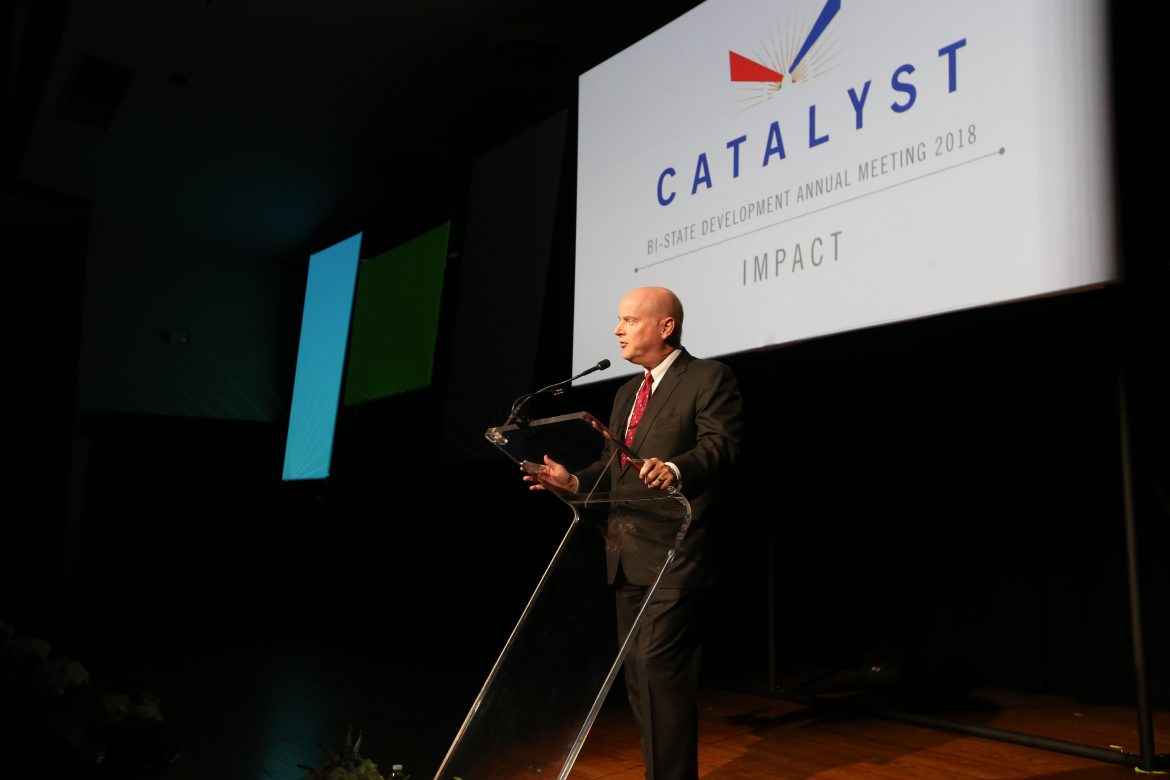 Spotlighting Bi-State Development's Impact on the St. Louis Region
Bi-State Development and its five enterprises generate a major impact on the entire St. Louis region through partnerships, collaboration, innovation, improving infrastructure, improving the business climate, improving neighborhoods, improving lives, and providing critical access to health care and to jobs. Nearly 600 top business, civic and elected leaders from across the region heard about some of the ways Bi-State Development is making the region better and moving it forward during the organization's sold-out 2018 annual meeting on November 2. The annual event featured a report to the community with updates on Bi-State Development enterprises as well as award presentations.
Bi-State Development awarded its first ever Inspire Awards this year to recognize two individuals for their partnerships in recognition of significant contributions to the success of the St. Louis region, Bi-State Development and its enterprises.
One Inspire Award was presented to Colleen Starkloff, co-founder (with her late husband Max) of both the Starkloff Disability Institute and Paraquad, and a passionate advocate for disability rights since 1973. Bi-State Development President and Chief Executive Officer John Nations recognized Starkloff as an innovative pioneer on access for all people, calling attention to her history with Bi-State Development, working to help establish a transit system that was accessible to all. Her efforts ultimately paved the way for Bi-State Development to have the first transit system in the United States with wheel chair lifts on the buses.
"I accept this award today on behalf of the disability rights champions all across our city and all across our country who continually fight for full inclusion for people with disabilities," Starkloff said.  "You honor all of us, and Max."
A second Inspire Award was presented to Mokhtee Ahmad, administrator for Region VII of the Federal Transit Administration (FTA). Nations and Constance Gully, Chair of the Bi-State Development Board of Commissioners recognized Ahmad for his tremendous responsiveness and always going above and beyond without ever realizing the full impact he has had in the St. Louis area and across his entire region.  Ahmad was saluted as a true partner who has helped to deliver FTA funding for projects as vital as the Eads Bridge Rehabilitation, Cortex MetroLink Station and so many others. Ahmad did not know he was going to be honored at the annual event.
"I am totally surprised and very humbled to receive this award," said Ahmad. "I think we all have one goal in mind, and it is to impact people; to impact people who are riding our transit system."
A third award, the Bi-State Development Legacy Award, was presented by Gully to Nations. Gully said in the past eight years, not only has Nations led the organization but also raised everyone's aspirations on what Bi-State Development could be.
"He set a higher bar for all of us on what we could achieve," said Gully. "John saw a potential in Bi-State Development that I'm not sure anyone did, and he took that vision and brought it to life. Thanks to John Nations, today, Bi-State Development is making a difference in the lives of people throughout the region in a multitude of ways."
---
Catalyst Magazine: Learn more about the impact of Bi-State Development.
---
Nations announced back in June he would be departing from Bi-State Development this fall to pursue other interests. Gully told him he couldn't leave with being recognized by the Board of Commissioners and his Bi-State Development family.
Accepting the surprise Legacy Award with dozens of Bi-State Development employees surrounding him on stage, Nations said, "I have been blessed throughout my life to be surrounded by great people. You're seeing a small sample of the faces and the people who deliver for Bi-State Development every day, and I can't begin to tell you how much pride I have and what a privilege it has been to lead this team for the last eight years. These are the people working 24/7 whose names you don't know but whose impact you feel every single day, in virtually every neighborhood across this region … Thank you for all you do."
More than 2,500 men and women are employed at Bi-State Development and its enterprises:  Gateway Arch Riverfront, Metro Transit, St. Louis Downtown Airport, St. Louis Regional Freightway, and the Bi-State Development Research Institute.
Metro Transit's new Executive Director Jessica Mefford-Miller leads 2,000 of those 2,500 employees. She highlighted the tremendous work her transit team does that impacts the bi-state area as the engine that moves the region forward. She talked about the region's changing mobility needs and how Metro Transit is changing with the times by introducing new innovations and technology to the MetroBus network in preparation for the implementation of the Metro Reimagined plan.
"It starts with our customers. They have a lot of options when it comes to how they want to travel throughout the region. They want flexibility. They want faster and more frequent service. They want a safe and comfortable commute, Mefford-Miller said. "We've been listening, and that's why we will be making dramatic changes to the system, to ensure we are meeting their needs and their expectations – today and into the future."
She said it is much more than changing bus routes or adding frequency or just offering a new feature or convenience.  "This is about re-imagining what mobility means for the St. Louis region. And that is our focus at Metro Transit. We are not just a bus company, or a light rail system, or a paratransit fleet. We are in the business of mobility. Our job is to connect the wide array of available technologies and transportation options to provide an integrated network for the St. Louis region."
Mefford-Miller talked about how safety and security are at the forefront of this transformation. She said Metro Transit is changing its safety and security strategy. It is about building a community on the system and strengthening our relationships to work hand-in-hand with our law enforcement partners to make that happen. The new approach will incorporate station design, fare enforcement and placemaking to provide riders with not only a safe trip, but with a comfortable, convenient and enjoyable commute.
One of Bi-State Development's newest enterprises is making a big impact, not only in the St. Louis area, but is well on its way to put the region on the map as a global freight hub.
"I can safely say that nowhere else in our nation are people talking about freight like we are in the bi-state area. Today, we are leading the national conversations on freight, logistics, transportation and innovation," said Mary Lamie, Executive Director of the St. Louis Regional Freightway. "So, what is the secret to our unprecedented success? The answer is simple. Partnership and collaboration. We harnessed the tremendous collaborating power of people, organizations and companies on both sides of the Mississippi River, developed a clear message about our competitive freight advantages and successfully brought them all together in working toward a common goal."
The St. Louis Regional Freightway's nationally recognized model of collaboration brought together both the private sector and the public sector to build consensus on infrastructure priorities that benefit the entire region, gaining support across jurisdictions from the City of St. Louis and seven jurisdictions in two states.  More than $450 million in freight-designated infrastructure improvements identified by the Freightway's partners were approved this year for funding. That will help ensure both the St. Louis region and the nation can take advantage of the expected 40 percent growth in freight volume and freight movement.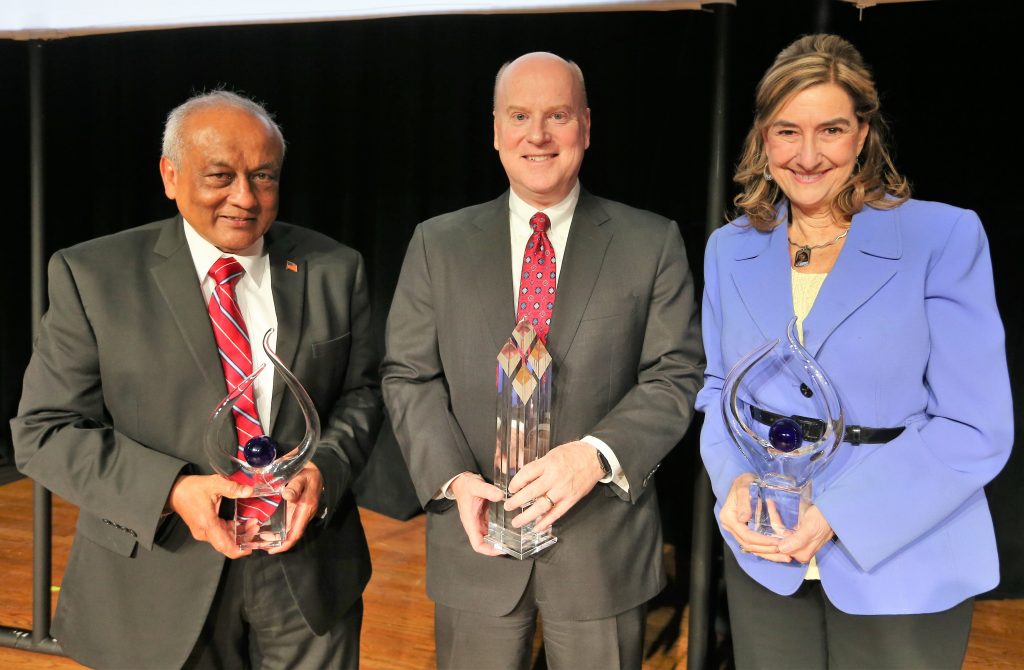 Lamie said other key collaborations are opening up the doors to bring innovative container on vessel technology to the St. Louis region, while another group of partners enabled the Freightway to co-host the first ever FreightWeek STL, which brought 2,000 people from all over the United States to St. Louis to collaborate on the forward movement of America's growing freight industry.  The four-day event in May represented an important step forward for the Freightway as a thought leader in technology and innovation, and gave attendees a firsthand look at the competitive freight advantages the St. Louis region has to offer.
In Nations' s report to the region he focused on how Bi-State Development and its enterprises are collaborating with others to help the region grow and are building the connections and partnerships the region needs to thrive. He underscored the importance of the Cortex MetroLink Station which opened on July 31. This is the first time in Metro Transit history private dollars have been invested in the public transit system infrastructure, and Nations said he sees it as a model that could be used for funding other regional infrastructure projects.
He talked about the impact the St. Louis Downtown Airport enterprise is making in the area of business aviation, with future plans calling for collaboration with Parks College and Southwestern Illinois College on initiatives to educate and train a new generation of aviation professionals.
The impact of the Gateway Arch Riverfront enterprise on tourism through its long partnership with the National Park Service was also highlighted. Nations called attention to the Gateway Arch Park and the recent redevelopment of the iconic monument and surrounding grounds, citing it as a great civic partnership and success story. Bi-State Development was a key partner in the Arch improvements.
Nations said to date, the Bi-State Development Research Institute has secured $2 million to improve lives and neighborhoods, providing access to fresh food and basic health care screening services in underserved communities. He also talked about education and workforce and plans to build partnerships with educational institutions to help make it possible for those who spend significant time commuting on the transit system to use that time to advance their education.
The annual meeting was supported by a range of sponsors who support Bi-State Development's efforts to positively impact the St. Louis region, including leadership sponsors, Lashly & Baer and Cigna.
About Bi-State Development
Bi-State Development (BSD) is the operator of the Metro public transportation system for the St. Louis region, which includes the 87 vehicle, 46-mile MetroLink light rail system; 391 MetroBus vehicle fleet that operates on 77 MetroBus routes; and Metro Call-A-Ride, a paratransit fleet of 120 vans. BSD also owns and operates St. Louis Downtown Airport and the Gateway Arch Riverboats, as well as operates the Gateway Arch Revenue Collections Center and Gateway Arch trams. BSD also operates the Bi-State Development Research Institute and the St. Louis Regional Freightway, the region's freight district.