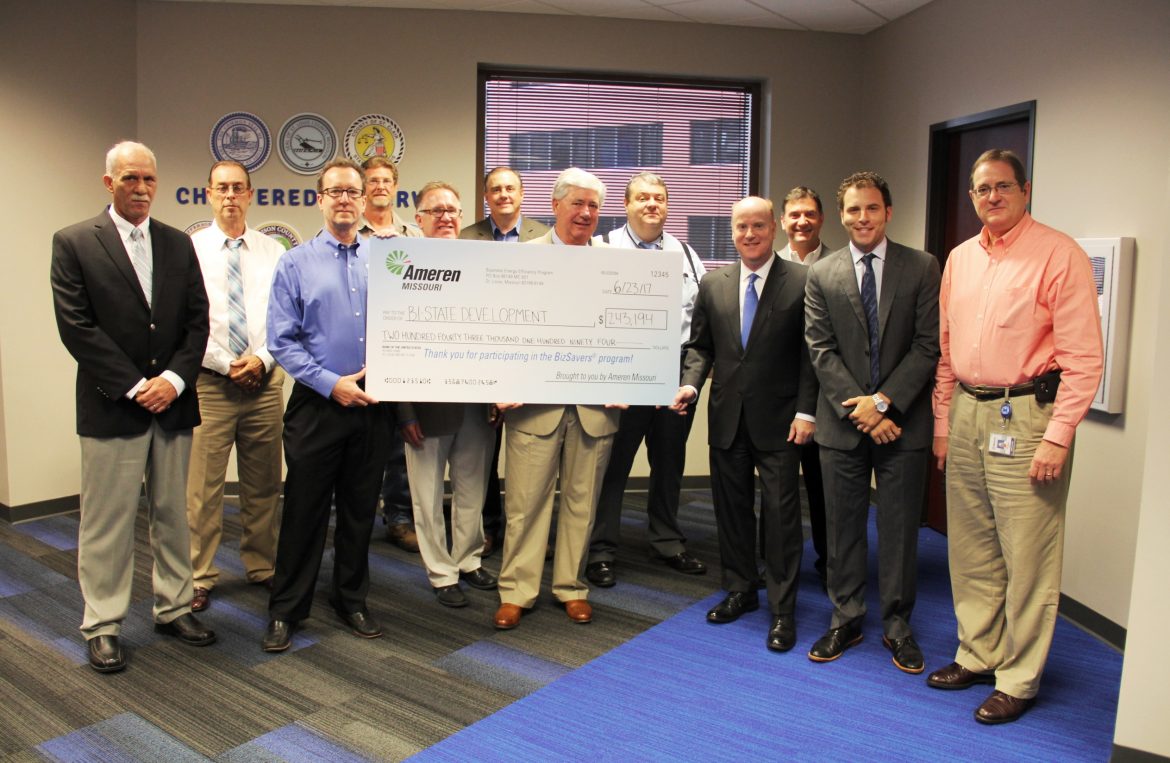 Representatives from Ameren Missouri presented Bi-State Development (BSD) with a check for $243,194 at their BSD Board of Commissioners Meeting. BSD upgraded more than 1,900 light fixtures at its Metro transit facilities to LED (light-emitting diode) fixtures through the Ameren Missouri BizSavers® program, which provides cash incentives to businesses making cost-effective, energy-efficient upgrades. The updated lighting produced a substantial incentive from Ameren Missouri, and is delivering an annual savings on energy costs of more than $236,000.
"Bi-State Development is always looking for ways to be more efficient, and we take special pride in making sure we maximize the value of the financial resources entrusted to us," said John Nations, President and Chief Executive Officer of Bi-State Development. "This partnership with Ameren has produced amazing results, from increasing safety at our facilities to improving our energy usage and costs."
In 2015, BSD began working with Ameren Missouri to upgrade lighting at five Metro transit facilities: Brentwood MetroBus Facility; Central Facility; DeBaliviere MetroBus Facility; Illinois MetroBus Facility; and Missouri Rail Yard and Shops. The project was completed during the spring of 2017.
The new LED fixtures have improved overall illumination, which has increased worker safety, and have also reduced labor costs as they require no maintenance for the first 100,000 hours of operation. One of the most significant benefits is how the new lighting has reduced overall energy usage at the facilities, saving 3.2 million kilowatt-hours of electricity each year. This creates an overall annual savings of $236,484 for Bi-State Development.
"Ameren Missouri is committed to energy efficiency, and we actively support organizations to help them find ways to improve their operations and infrastructure, save energy, and ultimately save money," said Rich Wright, Manager of Energy Efficiency at Ameren Missouri. "We are proud to have worked with the team at Bi-State Development over the last few years on this project, which has delivered some amazing benefits already, and will continue to generate substantial energy cost savings for years to come."
Nearly 3,000 projects have been completed through the Ameren Missouri BizSavers® program, which has saved more than 120 million kilowatt-hours of electricity through the current program cycle.
About Bi-State Development
Bi-State Development (BSD) owns and operates St. Louis Downtown Airport and the Gateway Arch Riverboats, as well as operates the Gateway Arch Revenue Collections Center and Gateway Arch trams. BSD is the operator of the Metro public transportation system for the St. Louis region, which includes the 87 vehicle, 46-mile MetroLink light rail system; a MetroBus vehicle fleet of approximately 400 vehicles operating on 80 MetroBus routes; and Metro Call-A-Ride, a paratransit fleet of 120 vans. BSD also operates the Bi-State Development Research Institute and the St. Louis Regional Freightway, the region's freight district.
About Ameren Missouri
Ameren Missouri has been providing electric and gas service for more than 100 years, and the company's electric rates are among the lowest in the nation. Ameren Missouri's mission is to power the quality of life for its 1.2 million electric and 127,000 natural gas customers in central and eastern Missouri. The company's service area covers 64 counties and more than 500 communities, including the greater St. Louis area. For more information, visit Ameren.com/Missouri or follow us at @AmerenMissouri or Facebook.com/AmerenMissouri.