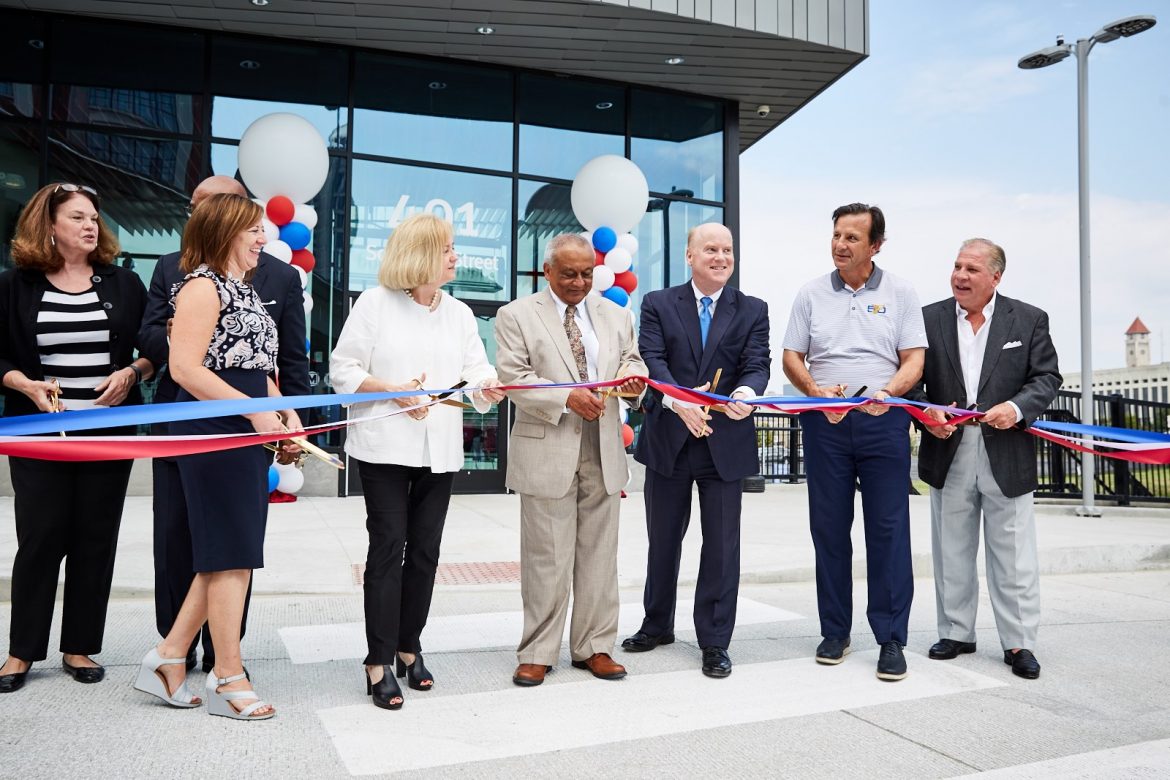 Metro hosted a ribbon-cutting celebration on August 10 to mark the upcoming opening of the newly expanded Civic Center Transit Center in St. Louis just days before MetroBus service returns to the transit facility on August 14. Representatives from the Federal Transit Administration (FTA), City of St. Louis, St. Louis Blues, and other regional partners participated. The completely redesigned Civic Center Transit Center located at 14th and Spruce Streets will serve all 23 MetroBus routes that operate in downtown St. Louis, connecting them to MetroLink and Metro Call-A-Ride with easy access to Amtrak and Greyhound. Construction began in April 2016 to expand the transit center and to incorporate several features requested by riders such as public restrooms and an indoor waiting area. Arcturis was the design firm and KCI Construction was the general contractor for the project.
"Our team at Metro is committed toward making smart, fiscally responsible investments to improve and expand the region's public transit system," said John Nations, President and Chief Executive Officer of Bi-State Development. "In just 14 months, they have transformed the Civic Center Transit Center, and tourists, transit riders, residents, employees, sports fans and concert-goers will now be able to enjoy a first-class transit facility."
The completely redesigned Civic Center Transit Center will provide a safer commuting environment for MetroBus riders and MetroBus operators. Some MetroBus passengers were picked up and dropped off on 14th Street while traffic zipped by because the transit center could not accommodate any more buses. All buses will now board passengers inside the transit center, off the street, out of the traffic. The transit center now will utilize all of the property at 14th and Spruce Streets, increasing the number of bus bays from 6 to 18 while adding a transit center building with an indoor waiting area, concessions, security and Metro transit personnel offices. The Civic Center Transit Center will be able to easily serve 23 MetroBus routes and is built for future transit needs. It can accommodate 60-foot buses and electric buses and could serve as a terminal point for Bus Rapid Transit Service with very little modification.
"The world has become a global community, and we must invest in transportation to ensure we remain competitive nationally – and internationally," said Lyda Krewson, mayor of the City of St. Louis. "That's why projects like this one at the Civic Center Transit Center are so vital. Investing in public transit is investing in our region."
Federal funding secured through the FTA by Metro paid for 80 percent of the $10.5 million total project cost. The remainder was provided through local funding.
"You have to compete for federal funds, and Metro and Bi-State Development are to be commended for securing $8.4 million in federal dollars to support this project," said Mokhtee Ahmad, FTA Administrator for Region 7. "That investment is helping build a better and stronger transit system that will allow Metro to operate even more efficiently and safely, and better serve the needs of public transit riders and the region as a whole."
When MetroBus service returns to the Civic Center Transit Center on August 14, passengers will enjoy the highest level of amenities the Metro system currently has to offer, including:
Public restrooms
Indoor, climate-controlled waiting area
On-site security – 24 hours a day, 7 days a week
Digital arrival-time display boards
Outdoor bus shelters
Café Blue Concessions
In addition, the Civic Center Transit Center will be completely smoke-free. Smoking of any kind, including use of e-cigarettes, will not be permitted on the property. This is the first step as Metro begins to transition all of its MetroLink stations and transit centers into smoke-free facilities and smoke-free properties. Smoking will be prohibited at all Metro transit locations, Park-Ride lots included, effective September 5.
"It is exciting for us to see this new transit center opening and think about how our guests, how our fans, how the people of the region will have an improved experience," said Chris Zimmerman, President and Chief Executive Officer of Business Operations for the St. Louis Blues. "Metro, without question, is one of the key pieces to keep the region moving forward."\
"Every day, tens of thousands of passengers travel right here through downtown St. Louis from all parts of our region," said Ray Friem, Executive Director of Metro Transit. "It's our responsibility to ensure that they not only have a more efficient, more comfortable and safer experience, but also ensure that they have the best transportation options we can provide."
About Metro
Metro is the operator of the St. Louis region's public transportation system, which includes the 87 vehicle, 46-mile MetroLink light rail system; approximately 400 vehicle MetroBus fleet that operates on 80 MetroBus routes in Missouri and Illinois; and Metro Call-A-Ride, a paratransit fleet of 122 vans. Metro is an enterprise of Bi-State Development (BSD), which also owns and operates St. Louis Downtown Airport, the Bi-State Development Research Institute, the Gateway Arch Riverboats, and operates the Gateway Arch Trams and Revenue Collections Center. BSD also operates the St. Louis Regional Freightway.