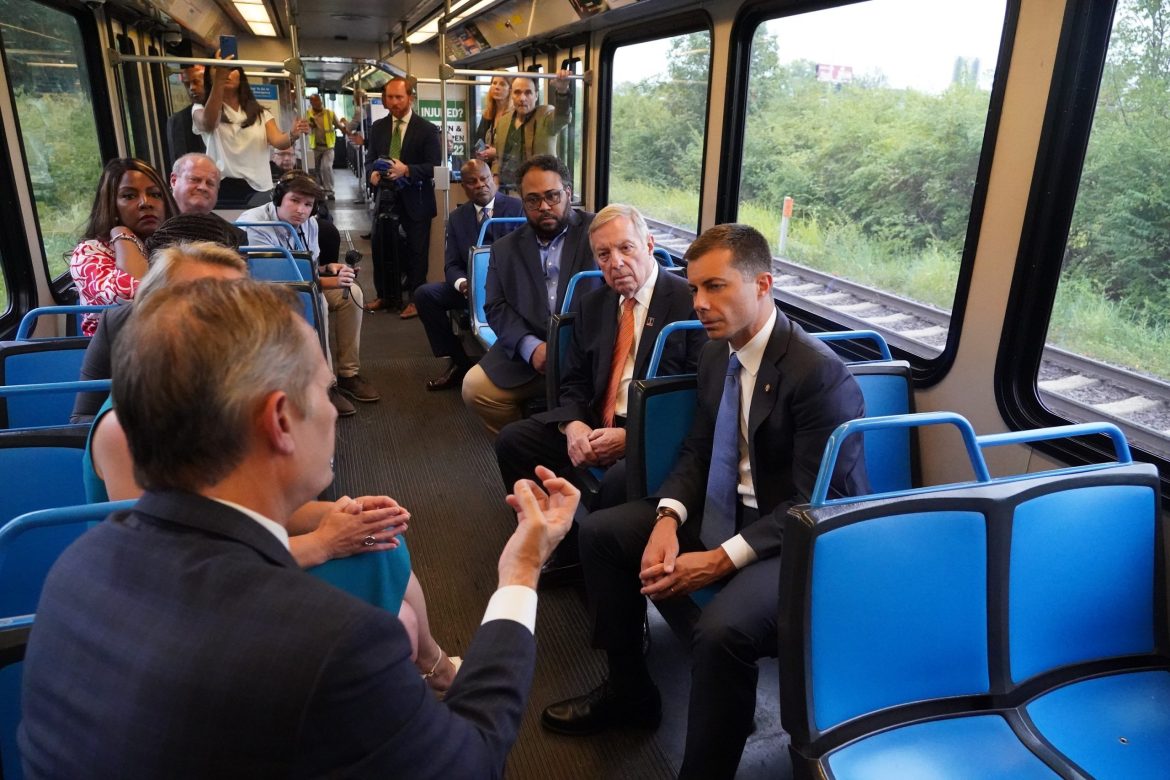 U.S. Secretary of Transportation Pete Buttigieg gathered with federal, state and local elected officials from Illinois and Missouri at the Emerson Park Transit Center in East St. Louis, Illinois, on July 31 to announce $27,675,00 in federal emergency disaster relief funding for Metro Transit's ongoing recovery following last summer's devastating flash flooding. The announcement and visit by Buttigieg came on the 30th anniversary of MetroLink opening on July 31, 1993.
"It feels like every week, we are hearing about a new flood or storm or drought or wildfire or heatwave, or other extreme event, and since we are seeing this with our own eyes we know, as leaders, our duty includes doing something about it," said Buttigieg. "In terms of our transportation work, that means supporting recovery and rebuilding efforts and it means ensuring that our infrastructure is built to withstand the extreme weather that is coming more frequently.
"After the record rainfall and flash flooding in July 2022, we turned to our federal partners at the DOT and FTA as well as our friends in Congress for help. Their support at the time was so appreciated and continues to be even more important now a year a later as we continue to recover from that devastating weather event," said Taulby Roach, Bi-State Development President and CEO. Bi-State Development operates the Metro Transit system in the City of St. Louis and in St. Louis County in Missouri and in St. Clair County in Illinois.
U.S. Congresswoman Cori Bush (MO-1st District) talked about the ripple effect when extreme weather disrupts transit service and why she was proud to secure funding not just for Metro Transit, but for transit systems across the nation. "We're not talking about mere inconvenience; we're talking about survival…Everyone deserves access to dependable, affordable and environmentally friendly transit systems and it's past time that we deliver that," Bush said.
The Public Transportation Emergency Relief Program funding from the Federal Transit Administration (FTA) is in addition to the FTA's $196.2 million federal grant announced in May for the replacement of light rail vehicles that have exceeded or are near the end of their useful life, which is 25 years old. Thirty of the 86 light rail train cars in the MetroLink fleet are 30 years old and all 86 cars have more than one million miles logged on each them, with 16 cars having two million miles on them each.
U.S. Senator Dick Durbin, who has been a staunch supporter for decades of MetroLink as an economic engine for the bi-state St. Louis region, highlighted the need to invest in the system for the future. "MetroLink is growing because it's needed and it's popular," said Durbin who serves as the U.S. Senate Majority Whip. "Our generation put it on the tracks 30 years ago, and now we have to look to the next generation serving this metropolitan area."
"These funds will help us bring our transit system into the 21st century, paving the way for faster, safer and more efficient travel of passengers," said U.S. Congresswoman Nikki Budzinski (IL-13th District). "This makes our system more resilient in the face of extreme weather events."
When record rainfall and flash flooding hit the St. Louis region on July 26, 2022, the majority of the damage was concentrated on a two-mile section of the MetroLink light rail system at the worst possible location, the Forest Park-DeBaliviere Station where the Red Line and Blue Line converge and MetroLink customers change trains to access both train lines. While the extraordinary work of the Metro Transit teams had some level of service back up and running within a matter of days, the transit agency is still rebuilding one year later so service can be restored to pre-flood schedules.
"We had never seen flash flooding on those extreme levels anywhere on the 46-mile MetroLink system since it opened in 1993," Roach said. "What occurred on July 26 was historic and beyond our control, and the goal in its wake was to restore partial MetroLink service as quickly as possible, so we could keep the region moving. Metro Transit teams and contractors are to be commended for quickly making track repairs in those first 72 hours, so train service could resume on the entire Red Line from St. Louis Lambert International Airport to the Shiloh-Scott MetroLink Station in St. Clair County, Illinois."
Just a few weeks later, on Monday, Aug. 22, 2022, Metro Transit was able to bring the Blue Line back online with service to all stations along the alignment. Since then, trains have had to use a modified single-track operation due to signal houses that were taken out by the flood and are still on the repair to-do list.
"We appreciate the patience of our MetroLink customers, especially our Blue Line customers, because the lingering impact of the historic flooding has been a major inconvenience to their commute over the last year," said Roach. "The additional funding announced by Secretary Buttigieg will speed our recovery and help to ensure we are able to deliver the service levels our riders expect and deserve."
The total damage from the flood event was estimated at more than $40 million for vehicle replacement, necessary equipment upgrades and flood mitigation measures. One MetroLink train (consisting of two rail cars) that was stranded in flood waters at the Delmar Loop Station was a complete loss, accounting for $10 million of the total, and a Metro Call-A-Ride van trapped on a roadway that flooded also was a total loss requiring replacement. Damage to elevators, fiber optic systems, communications, track beds, signals and several signal houses and communications rooms also contributed to the damage total.
In addition to the nearly $28 million in federal disaster relief transit funding, the agency received $17 million in insurance monies, which puts Metro Transit in the position to complete the additional work required to address any lingering equipment issues and to strengthen the system's resilience.
"We've made tremendous progress in our flood recovery efforts over the past year and are committed to following through on the remaining work to ensure our system can better withstand future flooding events and continue to serve our customers," said Roach.