Team Member Spotlight: Edith Rowe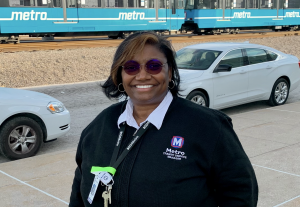 Have you ever been riding MetroBus and heard your bus operator having a conversation with someone on the radio? Well, the operator is talking to someone from our team in the Bus Operations Control Center (BOCC), and the voice you heard may belong to Edith Rowe, Senior Transit Service Manager.
"We are the voice from Oz – the voice that comes across the PA system or the loud speaker. We are the people behind the scenes."
Edith has worked at Metro Transit for more than 27 years, and is one of the team members behind the scenes who keeps our transit system moving. Her team mainly focuses on helping MetroBus operators when they are on their routes, but she also assists Metro Call-A-Ride, MetroLink (especially when a station shuttle is needed), Customer Service if they have questions from our riders, and Public Safety. The BOCC team also often works with outside organizations, like the police and fire departments, if emergency services are needed.
"There is never a dull moment. Especially with this department – there is always something. It is challenging, but once you have overcome that hurdle, it is on to the next (thing)."
Edith knows how important Metro is, and that it can connect people to different communities throughout the region. "We have Metro buses, we have MetroLink, we have Metro Call-A-Ride. If we can't get you exactly there, we can get you pretty darn close."
Outside of work, Edith enjoys spending time with her husband, playing word searches on her phone, watching good movies, and doing puzzles. He also recently taught her how to play dominos.
Check out our Q&A with Edith below to get to know her more.
How would you describe Metro?
Metro is a good citizen – we are always trying to help someone else. We are also adventuresome – we are always trying new things as far as buses. We are always trying, and won't give up until we get things right. And third, we are a good neighbor. 
What was your first job?
I started babysitting at 12 years old, but my second first job was working as a clerk for the Director of Procurement at a summer youth program.
Coolest place you have traveled to?
Tahiti. I like Alaska too.
Do you have advice or tips for someone who is new to riding Metro?
Make sure that you know where you are going. Talk to Customer Service or look at our app.  Then make sure you are there about 5 minutes early so you can catch the bus or train, and then sit down and enjoy the experience.
And don't just stay on one bus route or MetroLink line, try different areas or explore other areas. We have buses that go out to Chesterfield, trains that go out to Shiloh. Just watch and learn – and that will teach you about other communities as well. Get outside your comfort zone.