Canterbury Enterprises Packages Items for PPE Machines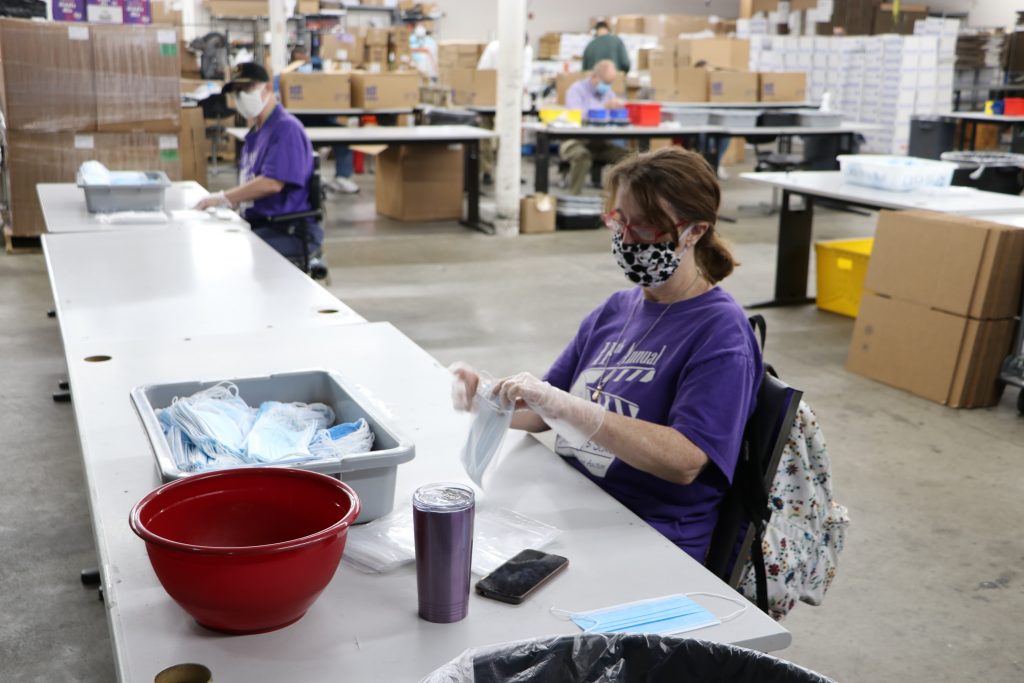 We continue to do everything we can to keep you and our customers safe during the COVID-19 pandemic.  Since March, we have been providing Personal Protection Equipment (PPE) like face masks, face shields, gloves and hand sanitizer to front line operators and team members. We have also distributed thousands of cloth and disposable face masks to our transit riders this year.
BSD team members can conveniently access PPE equipment when they need it, through PPE vending machines, which are located at all transit facilities.  Team members swipe their I.D. badges before selecting the prepackaged hand sanitizer, plastic gloves by size or face masks from the machines.
Since the PPE items were delivered in bulk, it would have taken a lot of time and resources to individually repackage them for distribution via the PPE vending machines. So this summer, we turned to our friends at Canterbury Enterprises (CE) in Shrewsbury for a helping hand. Canterbury Enterprises is a non-profit sheltered workshop that employs St. Louis City and County residents with disabilities. Tracy is one of the friendly, dedicated CE workers who was sorting, packaging, assembling and labeling our PPE vending machine items one day this fall when we visited. Tracy who has been employed at CE for 12 years now, enjoys folding the masks and placing them in the bags. She likes packaging masks because it helps other people to stay safe.
All of the CE team members take great pride in the work they do, and we certainly appreciate the work they do to keep our PPE machines stocked. They are taking a little break now, but will probably be helping us out again early next year.
Click on the video below to learn more about our partnership with Canterbury Enterprises.