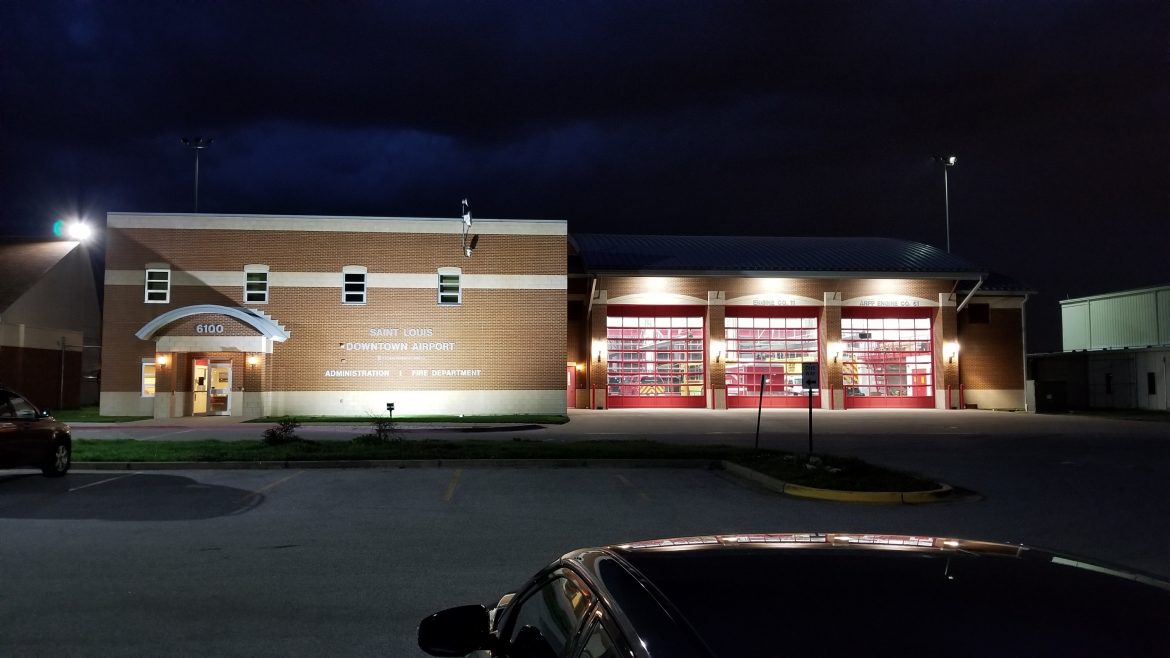 St. Louis Downtown Airport Upgrades Lighting for Greater Energy Efficiency
Lighting at the St. Louis Downtown Airport now appears brighter and whiter as the airport recently completed a project to replace all fluorescent, incandescent and other older bulbs on the airport property with new, energy efficient light emitting diode (LED) lights.
The airport took advantage of incentives available through the Ameren Illinois Energy Efficiency Program to complete the lighting upgrade, which included the installation of 247 new light bulbs/fixtures on the airport ramps, at the hangers, fire station, maintenance building, fixed base operations and parking lots and even the streetlight bulbs.
According to assessments provided by Ameren in advance of the project, the replacement fixtures and LED lights at the St. Louis Downtown Airport will reduce electricity use by an estimated 200,000 kWh annually, generating more than $16,000 in energy savings for the airport each year. Ameren Illinois provided more than $42,000 in incentives for the lighting upgrades – covering 100 percent of the total project costs.
Lighting accounts for as much as 50 percent of the average business' electricity consumption, and because ENERGY STAR-qualified LED lighting uses at least 80 percent less energy than incandescent lighting and lasts 35 to 50 times longer (or up to 5 times longer than fluorescent lighting) LED lights emerged as the clear choice for the airport.
"In addition to better quality lighting, greater visibility and higher energy savings, the project results in lower maintenance costs because the LED lights last much longer and don't have to be replaced as often," said Erick Dahl, Director of St. Louis Downtown Airport. "The new LED lighting has made a world of difference with how much brighter the airfield is now – it looks like daytime even at night."
The project was completed in May 2019 by one of Ameren Illinois' third party contractors. After seeing the transformation of the airport-owned property, other individual tenants at the airport are now working with the contractor to upgrade their exterior and interior lighting through the Ameren Incentive Program so they, too, can benefit from the energy savings.
Just a few minutes east of the Gateway Arch Riverfront and downtown St. Louis, St. Louis Downtown Airport is conveniently located at the region's front door. It is the busiest general aviation airport outside of Chicago in the State of Illinois. The airport is home to the nation's oldest flight school, St. Louis University's Parks College.
St. Louis Downtown Airport's 26 aviation businesses directly employ approximately 1,400 workers in high-paying technical jobs, contributing significant economic impact for St. Clair County and the bi-state region. The aviation businesses offer a range of services, including charters, flight training, helicopter services, aircraft customization, maintenance, sightseeing and hangar rental.
Bi-State Development owns and operates St. Louis Downtown Airport which is located in Illinois on more than 1,000 acres in Cahokia and Sauget.