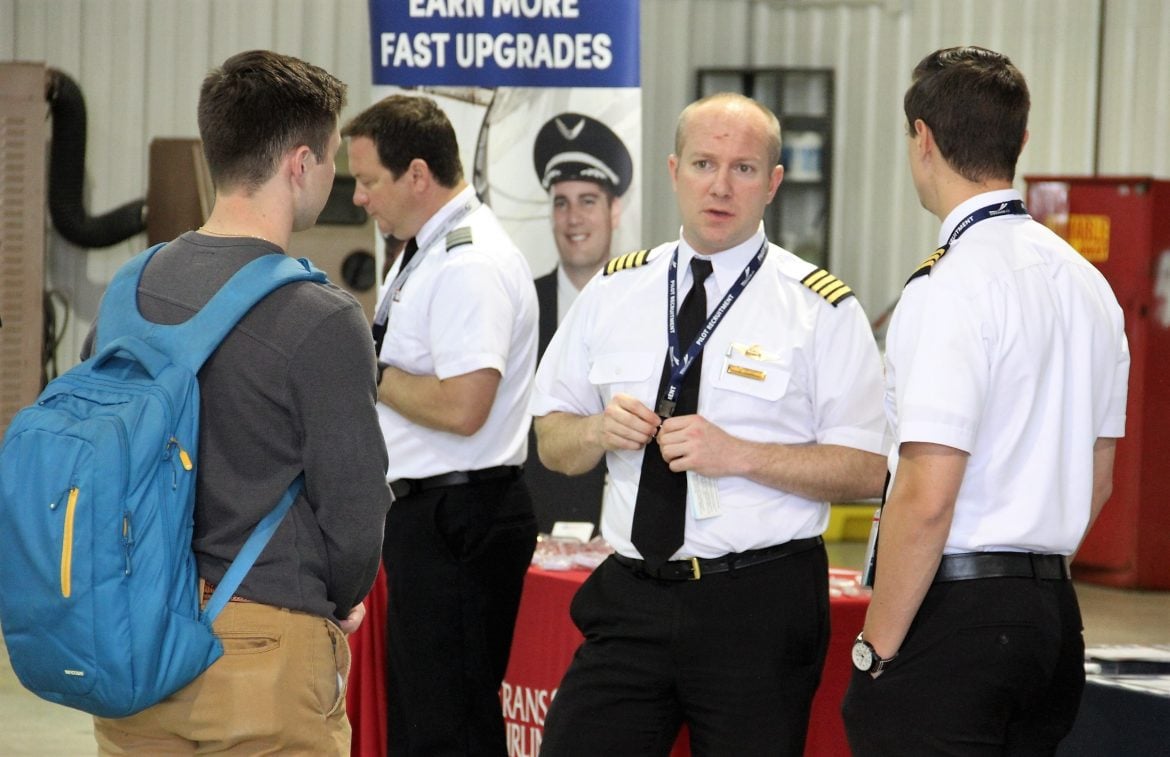 Saint Louis University Hosts Inaugural Fly-In Job Fair
It's not every day the right opportunity falls from the sky, but that's exactly what happened during the first-ever fly-in job fair at St. Louis Downtown Airport for Saint Louis University's (SLU) Parks College of Aviation, Engineering, and Technology.
About a dozen employers, ranging from regional airlines to aviation businesses, participated in the job fair on Wednesday (April 24). The event provided students with a first-hand look at what the aviation industry has to offer.
"It's not that often that we get such a large group of representatives from the industry where our students can come and see all the opportunities that are out there in aviation, and there's a lot," said Ryan Boyer, Assistant Chief Flight instructor at Saint Louis University Parks College.
Boyer said the industry as a whole is experiencing a shortage of pilots, which makes job fairs like this even more crucial. Saint Louis University has about 130 students enrolled in its aviation program. The school has seen a 30 percent increase in enrollment this year.
Alec Day-Dedmon, a sophomore aviation student, said it's the unique opportunities like this job fair that puts SLU's flight school in a class of its own.
"I think it's incredible, especially for our community," he said. "It really reassures that what we're doing is not in vain. It's very accessible to get these jobs and get into a wonderful community and career."
The aviation industry is constantly changing, so Saint Louis University prepares and positions their students for success in all facets of the aviation industry. The flexibility to navigate the fluctuations of this business is what employers are looking for, especially at Garmin International.
"The industry is growing and it's evolving at a rate that I haven't seen before, specifically because of technology," said Chris Bauer, Aviation OEM Sales & Marketing Manager at Garmin International.
Bauer himself is a good indication that SLU's aviation program is headed in the right direction. Bauer, who flew in from Kansas City, graduated from Saint Louis University Parks College in 2009.
"I wouldn't be where I'm at if it wasn't for Saint Louis University and Parks College," he said. "This industry can be fast-paced and evolve quickly, and sometimes it can be a little bit disappointing. If your goal is to stay in aviation, stick with it. Ride the high and lows. Stay dedicated."
For St. Louis Downtown Airport, these opportunities fall right in line with the airport's goal of supporting innovation and growth of the aviation industry.
"We have the privilege of being the home field for Saint Louis University's aviation school, and in combination with programs and activities like the fly-in job fair, we're excited to be able to support future pilots and leaders in aviation," said Erick Dahl, Director of St. Louis Downtown Airport in Cahokia, Illinois.
St. Louis Downtown Airport is owned and operated by Bi-State Development. Recent studies reveal the airport and associated St. Louis Downtown Heliport account for 3,371 direct and indirect jobs with a total payroll of $151 million. With a total economic impact of nearly $584 million, St. Louis Downtown Airport ranks among the top five airports in the state of Illinois and is the second busiest general aviation airport in the St. Louis region, behind Lambert-St. Louis International Airport.