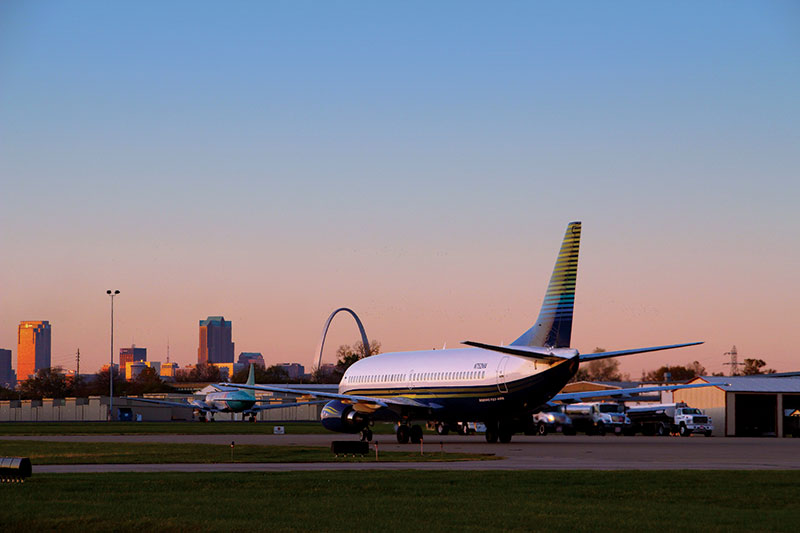 Emergency responders from municipalities and agencies across the St. Louis region will battle flames, rescue passengers and handle a simulated plane crash as part of an emergency training exercise at St. Louis Downtown Airport on Saturday, November 19. The live-action exercise will provide first responders with the opportunity to practice firefighting techniques and manage multiple passenger injuries and fatalities under realistic conditions.  There will also be a public health element to the exercise.
The exercise will include the use of a Mobile Aircraft Firefighting Trainer from the University of Missouri, which uses real fire and smoke to give firefighters firsthand experience of controlling and putting out an aircraft fire.
"This exercise is a great opportunity for emergency responders to train in a real-world scenario, coordinate with one another and see how they perform in a stressful environment," said Chief Mike Mavrogeorge, St. Louis Downtown Airport Fire Department. "And for firefighters, there's no better training than a live fire."
The training exercise is not open to the public. Residents and motorists in the vicinity of St. Louis Downtown Airport on November 19 should use caution around emergency vehicles in the area that are taking part in the training. The exercise will not impact operations at the airport.
Agencies participating in the emergency training exercise include: St. Louis Downtown Airport Fire Department, Bi-State Development, Federal Aviation Administration, Illinois Emergency Management Agency, St. Clair County Emergency Management Agency, St. Clair County Coroner, St. Louis Area Regional Response System, Cahokia Fire Department, Sauget Fire Department, Camp Jackson Fire Department, Dupo Fire Department, Prairie DuPont Fire Department, Cahokia Police Department, Sauget Police Department, MedStar Ambulance, Abbott Ambulance, ARCH Air Medical Service, Mutual Aid Box Alarm System of Illinois, Belleville Memorial Hospital Medical Control Center, East Side Health Department, and St. Clair County Health Department.
ATTENTION MEDIA: Members of the media are invited to observe the training exercise and take video/photos between 2:50 p.m. and 5 p.m. on November 19, as firefighters battle a live fire and emergency responders practice rescuing victims of a simulated plane crash. Please contact Jerry Vallely at 314-486-5553 to make arrangements.
About Bi-State Development
Bi-State Development (BSD) owns and operates St. Louis Downtown Airport and the Gateway Arch Riverboats, as well as operates the Gateway Arch Revenue Collections Center and Gateway Arch trams. BSD is the operator of the Metro public transportation system for the St. Louis region, which includes the 87 vehicle, 46-mile MetroLink light rail system; a MetroBus vehicle fleet of approximately 400 vehicles operating on 79 MetroBus routes; and Metro Call-A-Ride, a paratransit fleet of 120 vans. BSD also operates the Bi-State Development Research Institute and the St. Louis Regional Freightway, the region's freight district.