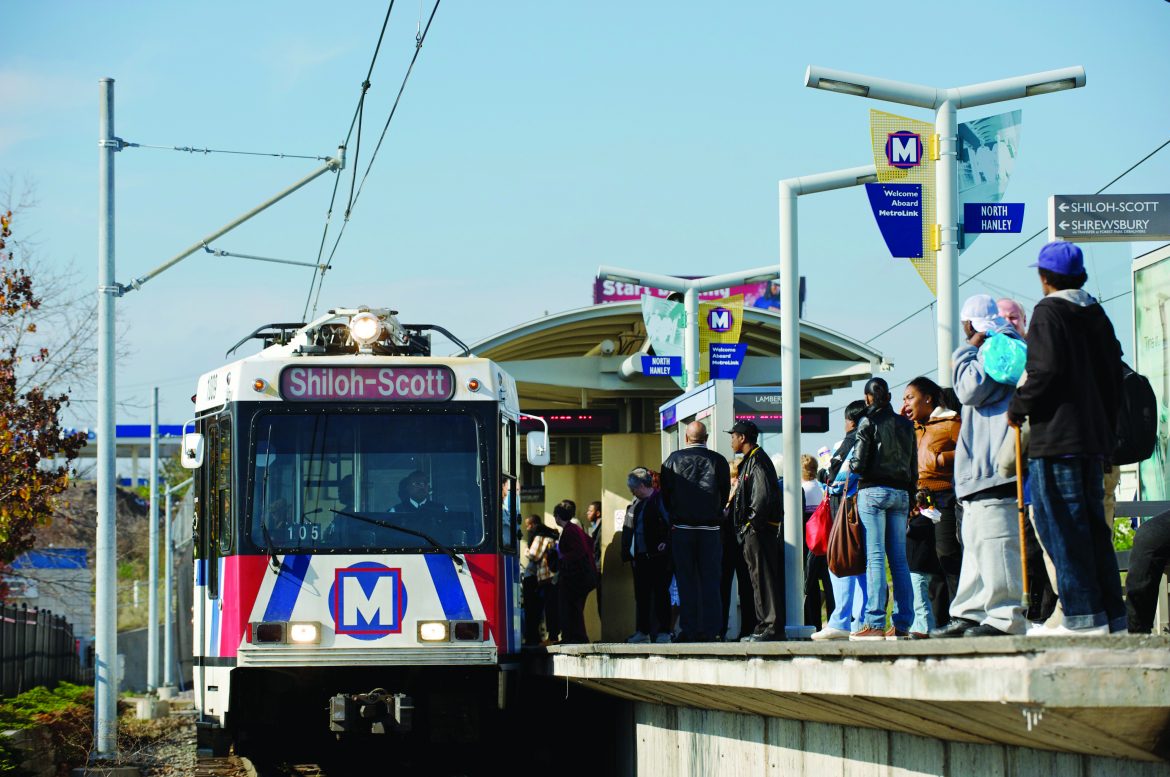 The Bi-State Development Research Institute will receive a federal grant of nearly $1 million dollars for an innovative mobile clinic program, in partnership with the St. Louis County Department of Public Health. The Rides to Wellness Demonstration and Innovative Coordinated Access and Mobility Grant from the U.S. Department of Transportation's Federal Transit Administration (FTA) is one of just 19 awarded in 16 states and is the only one awarded in Missouri. The grants support programs that help connect people to much-needed healthcare services through improved access to public transportation.
The Bi-State Development Research Institute, a not-for-profit organization that is one of Bi-State Development's newest enterprises, will receive a $940,251 grant to fund a mobile clinic, operated by the St. Louis County Department of Public Health, to provide health screenings such as blood pressure and cholesterol tests at several MetroLink stations in north St. Louis County. This public transit and health care partnership creates a bridge between silos by serving the health care needs of public transit riders along their routes. The program includes non-emergency medical transportation to and from appointments using transit subsidies, and is designed to provide underserved residents with easier access to health care until they are able to enroll in health insurance coverage options available through the Affordable Care Act. The mobile clinics will serve the North Hanley MetroLink Station, the Rock Road MetroLink Station and the Wellston MetroLink Station.
"These sought-after grants are aimed at building partnerships between health, transportation and other service providers to address the problem of how to get people without vehicles to doctors and wellness appointments to help them maintain good health," said Bi-State Development President and CEO John Nations. "The mobile clinic program created in partnership with Saint Louis County Department of Public Health and the Bi-State Development Research Institute, directly addresses that problem, and we are thrilled to secure these funds to support it."
"The Rides to Wellness program and our partnership with the St. Louis County Department of Public Health will allow us to provide up to 15,000 general health screenings for public transit riders in North County over the next year and a half," said John Wagner, director of the Bi-State Development Research Institute.
Wagner said, "The mobile clinic will improve access to basic health care for public transit dependent residents living near several MetroLink stations in North St. Louis County. At the same time, the mobile clinic is part of our effort to make transit hubs a more integral part of the community."
The federal grants are part of the FTA's Rides to Wellness Initiative, which emphasizes public transportation as a strategy for people to access non-emergency health care, resulting in better health, fewer hospital visits and lower costs. The initiative focuses on improving the health of those with chronic conditions and ensuring that at-risk populations can get to wellness appointments, healthy food, and community services.
"At FTA, we are pleased to address the needs of some of our nation's more vulnerable residents by investing in projects that will help improve their health through easier access to public transit," said FTA Acting Administrator Carolyn Flowers. "These grants will help connect transit riders to healthcare services in new and creative ways."
"People with limited access to reliable, safe transportation often miss their medical appointments, sometimes with dire consequences," said U.S. Transportation Secretary Anthony Foxx. "These grants identify dozens of creative ways to address these problems, providing a lifeline to people who otherwise might skip healthcare visits. We are bridging that health care gap by improving mobility for those with low incomes, older adults, and people with disabilities."
Demand for the FTA's Rides to Wellness grants exceeded available funds, as the FTA received 78 applications totaling $28 million from 34 states.
About Bi-State Development
Bi-State Development (BSD) operates the Bi-State Development Research Institute and the St. Louis Regional Freightway, the region's freight district. The Metro public transportation system for the St. Louis region is operated by BSD. It includes an 87-vehicle, 46-mile MetroLink light rail system; 391 MetroBus vehicle fleet that serves 77 MetroBus routes; and Metro Call-A-Ride, a paratransit fleet of 120 vans. BSD also owns and operates St. Louis Downtown Airport and the Gateway Arch Riverboats, as well as operates the Gateway Arch Revenue Collections Center and Gateway Arch trams.