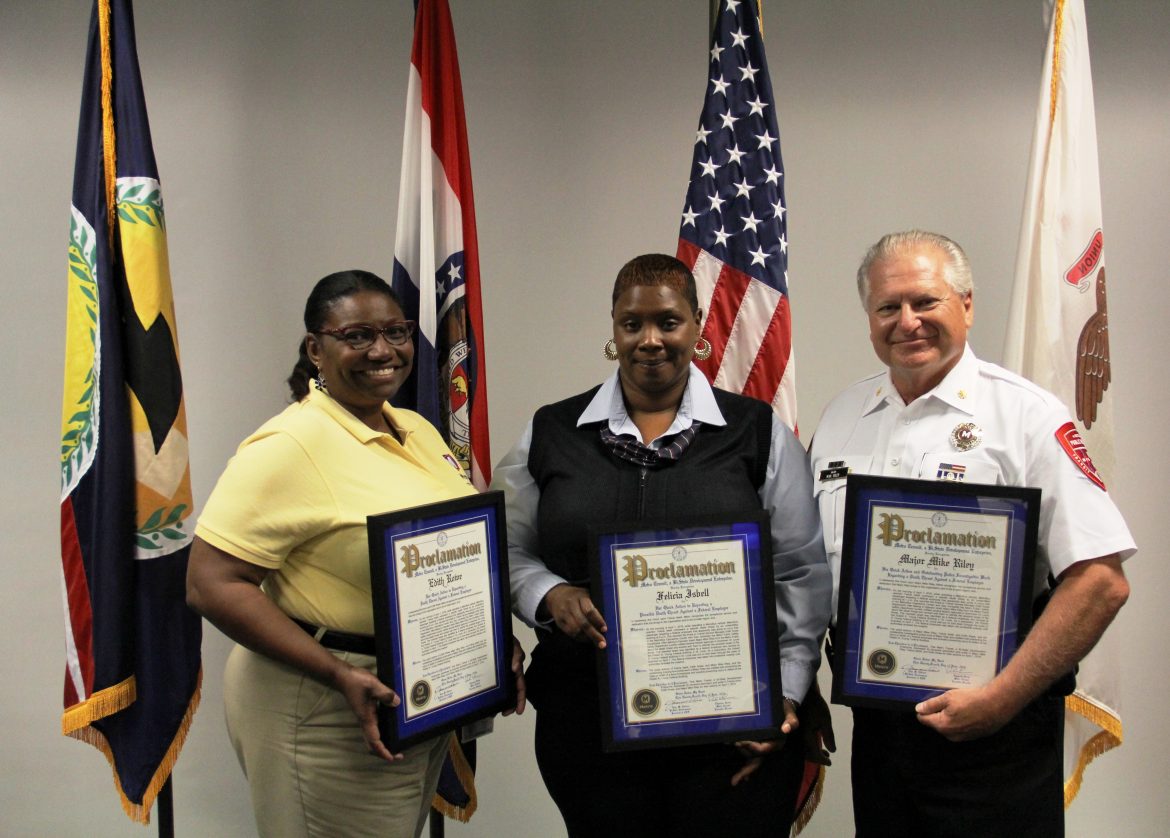 At the Bi-State Development (BSD) Board of Commissioners meeting on June 24, MetroBus operator Felicia Isbell, Metro Transit Service Manager Edith Rowe and Metro Public Safety Officer Mike Riley were recognized for their actions on April 1, 2016, that are credited with saving the life of a federal employee and possibly other government workers.
Susan Holzwanger, Operations Manager at the Internal Revenue Service, joined BSD Commissioners, BSD President and CEO John Nations, Metro Transit Executive Director Ray Friem, Metro Public Safety Chief Richard Zott and others to honor the three Metro employees who responded to a death threat targeting a federal employee at the Robert A. Young federal building in downtown St. Louis.
"With MetroBus, we like to say we have 1,100 sets of eyes traveling through the region and seeing things – but this time, it was a set of ears that made a difference," Friem said. "We are very proud to honor these special employees today, who through their hard work and dedication, helped protect one life, and perhaps other lives. We take each and every threat seriously. This is an example of our employees taking action and of good police work and quick collaboration with outside law enforcement agencies."
On April 1, 2016, MetroBus operator Isbell overheard a specific death threat toward a federal employee that was allegedly going to occur at 6 p.m. that evening. She immediately reported the threat to Transit Service Manager Edith Rowe, who contacted Major Mike Riley with the Metro Public Safety Department. Federal law enforcement agencies were quickly notified, and Riley worked with them to identify the possible target of the threat. The intended target was identified and was put into protective custody until the suspect was arrested. As a precaution, the Robert A. Young Federal Building was put on lockdown for the remainder of the day.
"In this day and age, a lot of people would have done nothing," Holzwanger said. "On behalf of the Internal Revenue Service, we are extremely grateful to Felicia, Edith and Mike for doing the right thing to report the threat, communicate with us, and work with us to ensure we could keep all of our employees safe."
About Bi-State Development
Bi-State Development (BSD) is the operator of the Metro public transportation system for the St. Louis region, which includes the 87 vehicle, 46-mile MetroLink light rail system; 391 MetroBus vehicle fleet that operates on 77 MetroBus routes; and Metro Call-A-Ride, a paratransit fleet of 120 vans. BSD also owns and operates St. Louis Downtown Airport and its surrounding industrial business park, and the Gateway Arch Riverboats, as well as operates the Gateway Arch Revenue Collections Center and Gateway Arch trams. BSD also operates the Bi-State Development Research Institute and the St. Louis Regional Freightway, the region's freight district.