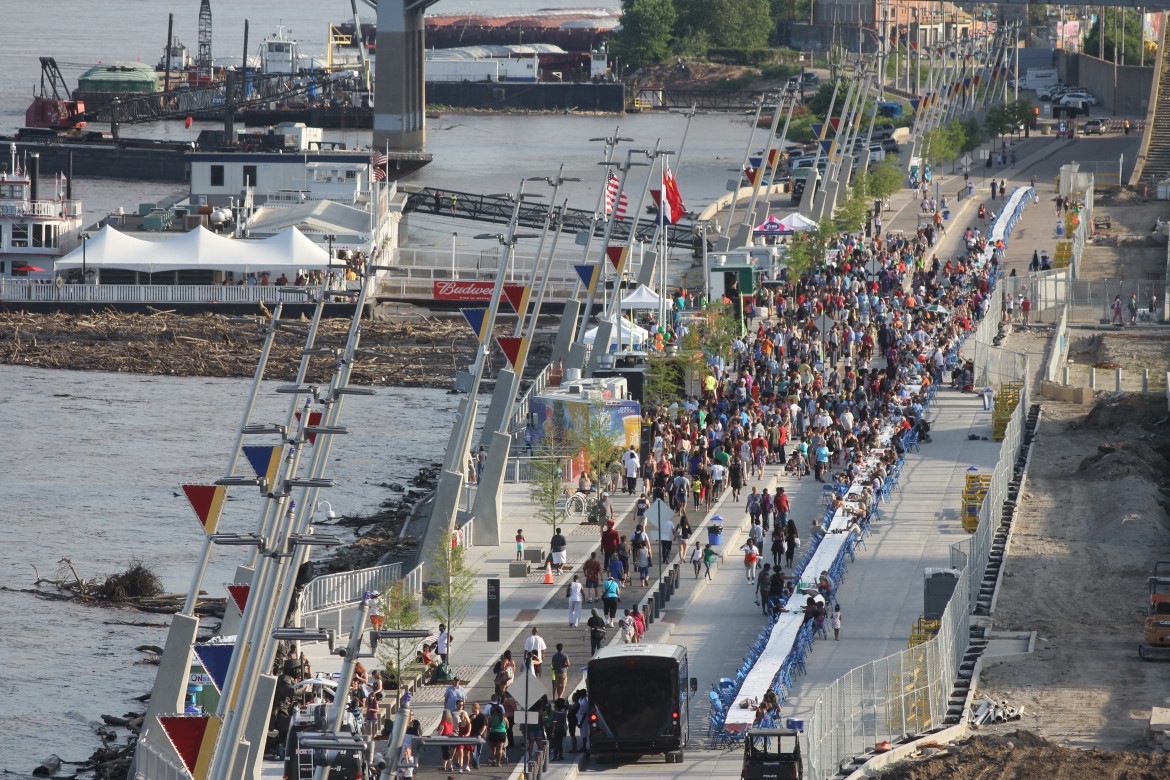 Fireworks and food trucks helped elected leaders, project partners and area residents celebrate the opening of the new St. Louis riverfront on Thursday, June 2. The "Picnic on the Riverfront" event highlighted the total renovation of a 1.5 mile stretch of Leonor K. Sullivan Boulevard and extension of the Mississippi Greenway from the Biddle Street Trailhead to Chouteau Avenue.
---
PHOTOS: Scroll down to view photos from the "Picnic on the Riverfront" event.
---
Bi-State Development (BSD) President and CEO John Nations joined Missouri Governor Jay Nixon, St. Louis Mayor Francis Slay, U.S. Congressman Lacy Clay, as well as officials with Great Rivers Greenway, the CityArchRiver Foundation, Missouri Department of Transportation and the National Parks Service, to commemorate the important milestone, which is part of the larger CityArchRiver project to transform the visitor experience at the Gateway Arch, along the riverfront and in downtown St. Louis.
"Through our more than 50-year partnership with the National Park Service, Bi-State Development has helped millions of visitors enjoy their time in St. Louis, whether it's taking them on a riverboat cruise on the Mississippi or carrying them to the top of the Gateway Arch, " said Nations. "We look forward to welcoming millions more as this transformation of our riverfront makes it a top destination for families, tourists and other visitors to the region."
Great Rivers Greenway was the lead agency on the Central Riverfront renovation project, which included rebuilding Leonor K. Sullivan Boulevard, adding a bicycle and pedestrian trail and elevating the entire riverfront an average of two feet to limit the impact of flooding and allow visitors more opportunities to enjoy and experience the riverfront. Visitors are also now able to take advantage of new amenities, including benches, bike racks and lights, and the addition of power outlets and a street-level stage makes the new riverfront an ideal location for events, programs and festivals.
BSD was able to secure a $1 million Paul S. Sarbanes Transit in Park program grant, which was used to help support these improvements. Additional funding and project partners on the Central Riverfront project include the National Park Service, the Federal Highway Administration, the Federal Transportation Administration, the Missouri Department of Transportation and Great Rivers Greenway.
BSD financed construction of the Gateway Arch tram system and has operated the trams since it opened to the public in 1967. Through its Tourism Innovation enterprise, BSD also owns and operates the Becky Thatcher and Tom Sawyer riverboats as well as helicopter sightseeing tours on the riverfront.