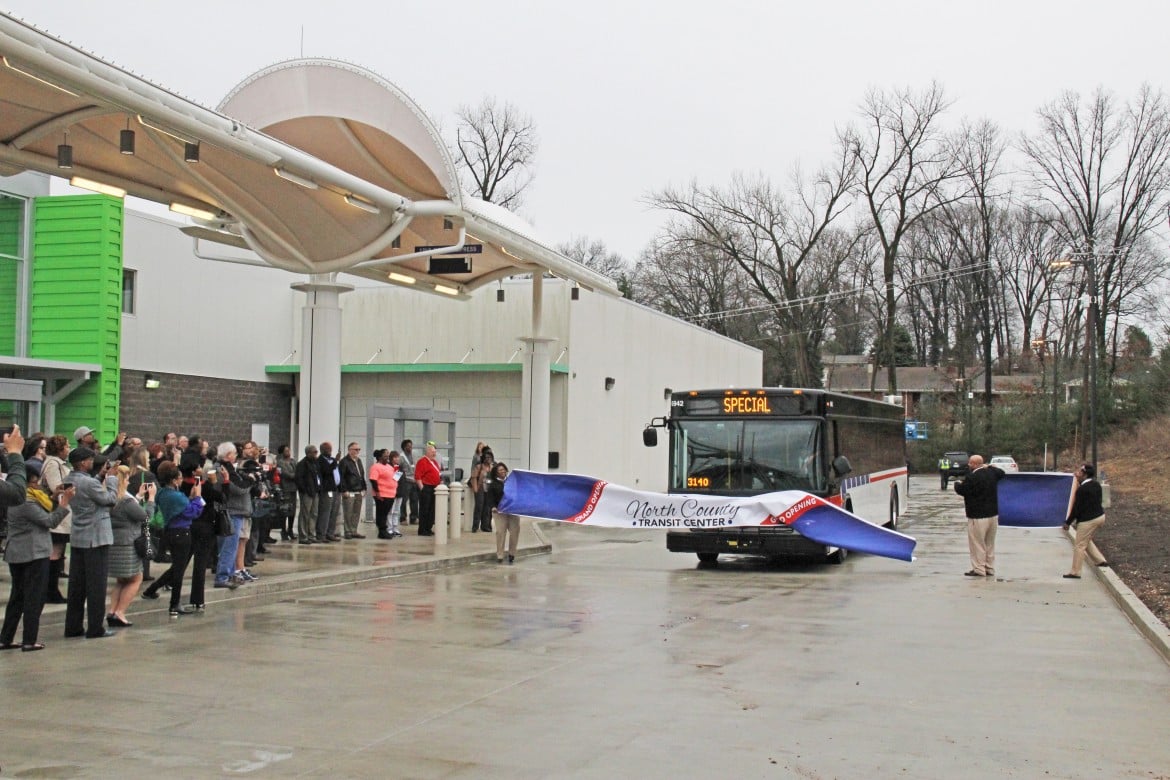 Representatives from the Federal Transit Administration (FTA), the City of Ferguson and St. Louis County joined Metro at a ribbon-cutting event today to commemorate the completion of the North County Transit Center.
The transit center, located at 3140 Pershall Road in Ferguson, Mo., is the newest addition to the Metro system and is a key transit hub for the region, providing easier and more efficient service for MetroBus riders to get to jobs, school and other important destinations in North St. Louis County and throughout the region.
"We've always known that transportation and access to opportunities is a key to economic growth and success," said John Nations, President and CEO of Bi-State Development. "More than five years ago, we identified this area of North St. Louis County as the perfect spot for this type of investment."
The completion of the North County Transit Center allowed Metro to develop a new and completely redesigned MetroBus service plan for North St. Louis County, one of the region's fastest growing transit markets accounting for almost 20 percent of all MetroLink and MetroBus boardings. This new service plan, which goes into effect on Monday, March 14, provides more frequent service, more direct service, faster transfers and connections to more destinations for many passengers who live, work, do business or travel through North St. Louis County.
"Transportation and access to employment, businesses, education, healthcare – it's the lifeblood of the region," said Steve Stenger, St. Louis County Executive. "The continued success and growth of St. Louis County depends on safe and reliable transportation for everyone, which is what makes projects like the North County Transit Center so important."
Metro was able to pair local funding resources with federal dollars to support the North County Transit Center project. Federal funding secured by Metro, in the form of Congestion Mitigation and Air Quality funds and Urbanized Area Formula funds, accounted for 80 percent of the $10.28 million total project cost.
"We're always delighted to partner on transit projects that have the potential to make the biggest impact in the community," said Mokhtee Ahmad, FTA Administrator for Region 7. "The North County Transit Center is that kind of project."
When it opens to service on Monday, March 14, the North County Transit Center will serve nine MetroBus routes and Metro Call-A-Ride. The facility will provide passengers with the highest level of amenities the Metro system currently has to offer.
"We look forward to the many economic opportunities that will arise from this project," said Mayor James Knowles III of Ferguson. "Not least of which would be the expansion of these Metro facilities to the open land to our east, which would create new jobs and increased economic activity to the area."
The facility is designed to accommodate 40-foot buses, 60-foot articulated buses, electric buses, and to serve as a terminal point for Bus Rapid Transit Service with very little modification. It also has the ability to easily accommodate a dispatch center and maintenance facility, if federal funding can be secured in the future.
C. Rallo Contracting was the general contractor for the North County Transit Center, and the design contract was awarded to NCTC 2013 JV, a joint venture between STV Inc. and KAI.
"This is an exciting year for Metro as our long-range transit plan for the region comes to life with projects like the North County Transit Center," said Ray Friem, Executive Director of Metro Transit. "Soon we will start work on a new downtown transit center, finish the rehabilitation of the Eads Bridge, and break ground on a new MetroLink station in midtown St. Louis – all part of our vision of a strong, vibrant public transit system for the St. Louis region."