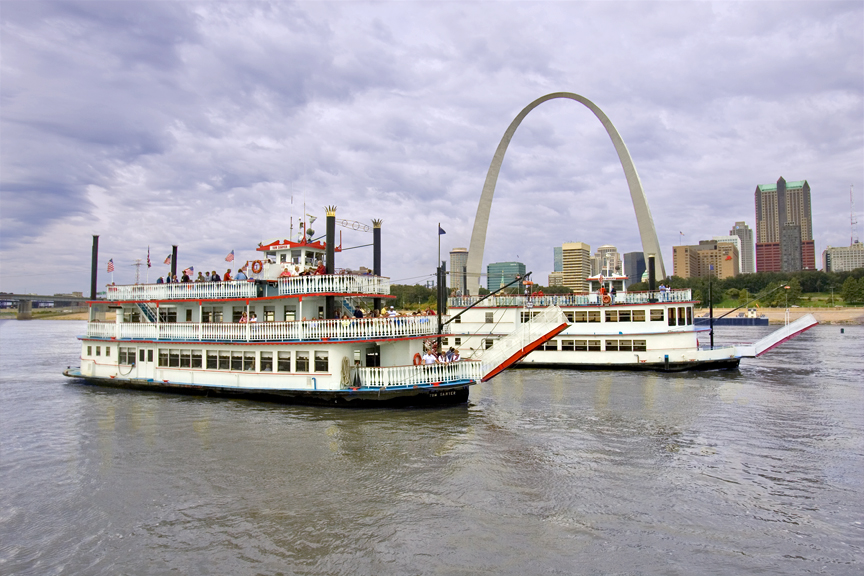 The Gateway Arch Riverboats ─ the Becky Thatcher and Tom Sawyer  ─ will begin cruising the Mississippi River this weekend with the start of the 2016 riverboat season.
Daily, one-hour sightseeing cruises begin Saturday, March 5. These narrated cruises explore the history of downtown St. Louis landmarks and architecture, and the vital role of the Mississippi River to the region. Tickets are $19 for adults and $9 for children ages 3-15 (children under 3 years old are free).
In addition to sightseeing cruises, passengers can take in the sights of the riverfront while enjoying food and music aboard Skyline Dinner Cruises and Sunday Brunch Cruises, or dance the night away aboard Blues Cruises featuring live blues bands on select Thursdays throughout the summer.
Reservations are recommended for Sightseeing Cruises, and are required for most specialty cruises, and they can be made by calling 1-877-982-1410 or visiting ticketsforthearch.com. For more information about the Gateway Arch Riverboats and the 2015 riverboat cruise schedule, visit gatewayarch.com.
Visitor experiences at the Gateway Arch—including access inside the Gateway Arch facility, Journey to the Top tram rides, Monument to the Dream movie showings, and the Arch Museum Store and Levee Mercantile—were temporarily suspended on January 4. The reopening of the Gateway Arch facility is expected this spring.
Due to ongoing renovations to the Gateway Arch grounds, guests who are headed to the Gateway Arch riverfront by car should travel east on Chouteau Avenue and then north on Leonor K. Sullivan Boulevard. Parking is available on the levee in front of the riverboats.
Visitors who plan to use MetroLink to visit the Gateway Arch riverfront are encouraged to exit at the 8th & Pine MetroLink Station and head east toward the Old Courthouse.