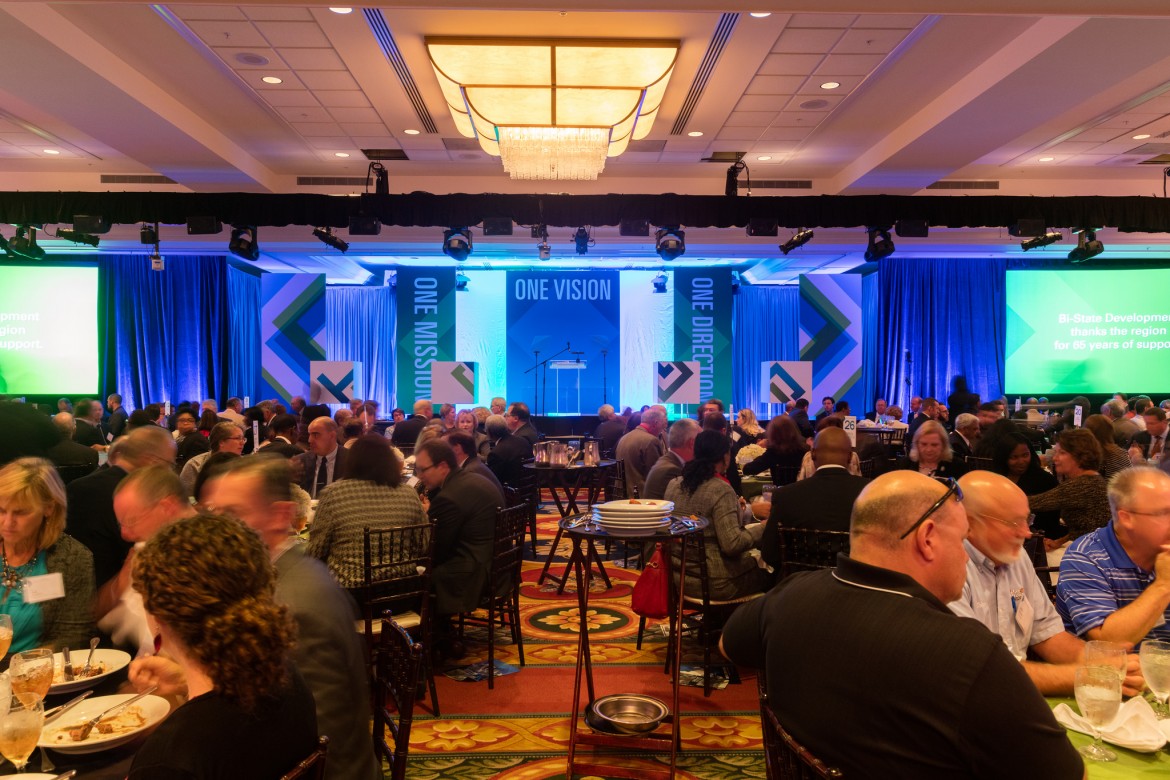 Bi-State Development (BSD) has led or been an important part of many efforts and projects that have helped shape the St. Louis region for more than 65 years.
For example, in the 1960's, we were commissioned to conduct one of the first Interstate Highway studies that became a model for America's roadways. The trams that take you to the top of the Gateway Arch are a result of the partnership between Bi-State Development and the National Park Service. In 1963, at the request of the region, we acquired 15 struggling private transit companies to create the award-winning regional Metro transit system we all enjoy today.  In 1964, Bi-State Development purchased and reopened a year later, Parks Metropolitan Airport and turned into what is now worth nearly $600 million in economic benefit to our area. Those are just a few of our historic highlights.
Since then, BSD has played a significant role fostering collaboration, developing solutions to regional challenges, and leading or contributing to key regional projects. Recently we celebrated an important milestone– the 65th anniversary of President Harry S Truman signing the Interstate Compact that established Bi-State Development, and we marked the occasion with our partners who work with us to improve the bi-state region. The sold-out event on September 25 was our inaugural Annual Meeting. (View slideshow below.)

"For 65 years, our company has both withstood the test of time and stood ready and willing to serve our region," John Nations, BSD President and CEO said during the annual meeting. "We are an example of the important collaboration that has been the foundation for a host or regional successes. Our business operations touch lives, neighborhoods, jobs and business centers all across the region."
Nearly 600 guests joined us for our annual meeting. In addition to Nations, other speakers were Vice Chair of the BSD Board of Commissioners Constance Gully, St. Louis County Executive Steve Stenger, St. Clair County Board Chairman Mark Kern and St. Louis Mayor Francis Slay.
Stenger praised the work of the Metro transit system and its ability to provide opportunities for developers and investors, specifically highlighting the North County Transit Center now under construction in Ferguson, Mo., on Pershall Road near Interstate 270. North St. Louis County accounts for nearly 20 percent of Metro's total boardings.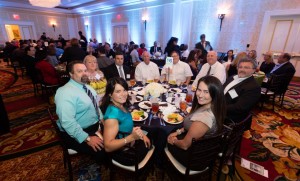 "The new transit center will make travel to and from that important sector of the county easier, and it will attract more customers for the goods and services nearby," Stenger said.
Kern spoke of Metro transit's impact on St. Clair County residents and businesses, and also of the impact of St. Louis Downtown Airport as an economic engine for the region and the potential of the newly-created Regional Freight District.
"We are committed to working with Bi-State Development and our regional partners to put the bi-state area on the freight logistics map," Kern said.
Slay reemphasized the importance of the Regional Freight District and also praised Bi-State Development in its continuing work to make the Gateway Arch a world-class tourist attraction and St. Louis a premier tourist destination. Bi-State Development is a partner in CityArchRiver, an exciting project that will help shape a new, better experience for local visitors and those who come from around the world to see the Arch.
"There is no doubt Bi-State Development is an important partner to have at the table when it comes to economic development, especially when it comes to selling St. Louis," Slay said.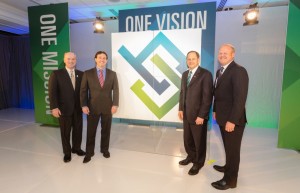 Stenger, Kern, and Slay joined Nations to each place blocks on a foundation to symbolize what we do every day, and have done for 65 years, bringing together the communities on both sides of the Mississippi River to build something together for our region.  We are proud of our record and we are renewing our mission, refreshing our image and reestablishing the "development" in Bi-State Development so that together we can continue to move the region forward to make it better. The speakers  joined together four blocks to create our new Bi-State Development logo, signifying  a commitment by each to continue to work together to build a future filled with even more promise and potential.
The new image was created to reestablish the organization's role as a catalyst for economic development and better align BSD with its mission to build connections between Missouri and Illinois, and between more than 3,600 square miles, 200 municipalities, six counties, the City of St. Louis and the nearly 2.5 million people who call the bi-state area home.
Special thanks to all of our Annual Meeting sponsors, especially to our key sponsors: Enterprise Holdings, the law firm of Lashly & Baer, and The Lowenbaum Partnership law firm.