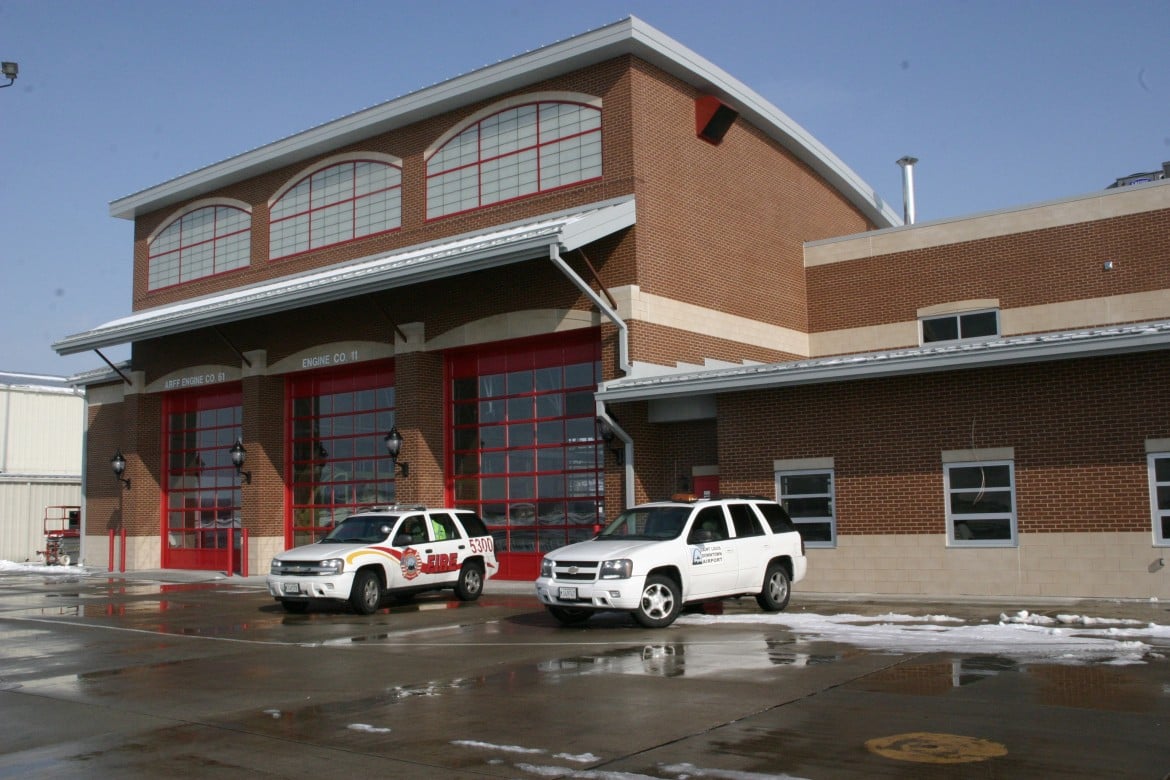 St. Louis Downtown Airport has added two more members to its airport fire rescue team, Ryan Ahlmeyer and Liz Warford. Both firefighters bring years of experience and expertise to the daily operations of the airport's fire department, and in return, they get to expand their knowledge and firefighting skills in a unique environment.
Ryan Ahlemeyer comes to St. Louis Downtown Airport as a part-time firefighter after serving 11 years at the Cahokia Fire Department. He started working at St. Louis Downtown Airport in July.
Ahlemeyer will help in the day-to-day tasks at the airport, including prepping and operating the 80,000-pound Rosenbauer Panther 6X6 ARFF (Aircraft Rescue and Fire Fighting) vehicle used by the airport's fire rescue team. This is his first experience working at an airfield.
"Coming from a fire department that mainly addressed structural fires, it's a completely different playing field," Ahlemeyer said. "It requires a different technique."
To learn the necessary techniques to become an airport firefighter, Ahlemeyer completed a 40-hour training class in Lexington, Ky. But training can only prepare you to a certain point, the most valuable way to learn is from on-location, firsthand experience.
"I hope to learn all there is about airport firefighting," he said.
Liz Warford joined St. Louis Downtown Airport as a part-time firefighter and EMT in August. Her role at the airport adds to an already impressive list of organizations she is a part of.
In addition to her work at the airport, Warford also is a volunteer firefighter at the Fairview Heights Fire Department, an EMT for Monroe County, a volunteer with the St. Clair County Emergency Response team and a firefighter in the United States Air Force Reserves at Scott Air Force Base.
"I like being involved," Warford said.
Her duties at St. Louis Downtown Airport will be similar to her responsibilities at Scott Air Force Base, just on a more scaled-down level.
She said the opportunity to work at an airport as opposed to a military base allows her more flexibility to grow her expertise in airport emergency management. It also allows her to broaden her knowledge of various aircraft.
"Both Ryan and Liz bring extensive fire department knowledge and experience to the airport," said Chief Mike Mavrogeorge of St. Louis Downtown Airport's Fire Department. "We're honored to welcome them to the team."
St. Louis Downtown Airport's Fire Department employs eight firefighters and provides fire suppression, first response emergency medical care, emergency management and coordination, and airfield operations services. The airport regularly hosts emergency drill training and live fire training exercises in partnership with local, state and federal emergency responders, and the department offers fire and medical support to communities near the airport.
St. Louis Downtown Airport, which is owned and operated by Bi-State Development, is home to 26 businesses, generates more than 3,700 jobs and provides an annual economic impact of $584 million to the region.