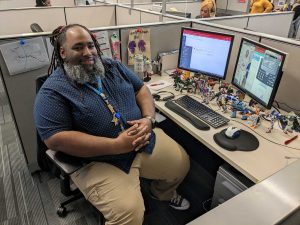 "Perfecto!" That's the text Customer Service Representative Ricardo Scruggs received when he asked if a Spanish-speaking customer could understand his translation. They needed help taking Metro Transit, so Ricardo adapted, using a translation tool to ensure they could ride on to their destination.
The conversation started through Quiq, a software Customer Service uses to help customers through text messages. Despite not knowing the language, Ricardo recognized it was Spanish and opened Google Translate. The customer needed assistance adding a payment method to the Transit app to buy passes. Ricardo gave them instructions in Spanish and got the customer on their way.
"I build models at my desk. I use Google Translate all the time to translate instructions for the models because a lot of them are in Japanese," Ricardo said. The models are from the show "Gundam," a favorite of Ricardo's. They surround his keyboard, built during downtime or when his hands are free.
Ricardo joined the Metro Transit Customer Service team over a year ago. He helps customers navigate the system or resolve issues. The job requires deep transit knowledge and expertise using tools like bus schedules, route times and live vehicle monitoring.
Since joining, Ricardo has taken on a lead relief role, assuming more duties. He recently helped train a group of new hires to the Customer Service team. Ricardo said the work includes many minor details, but it all comes down to helping people reach their destinations.
"I was a transit rider for a really long time," Ricardo said. "So being on the other side of it and being able to help people use public transit is awesome. I really enjoy it."
His experience comes with the ability to empathize when a customer calls with an issue outside of their control, like a missing bus or unexpected service change.
"I tell them we're here to help, you know. Even if you need to call and yell at me while you're at the bus stop, I'll sit here and listen to you," Ricardo said. "I'll take your complaint, and we'll do everything we can do. We're trying, we're making every effort."