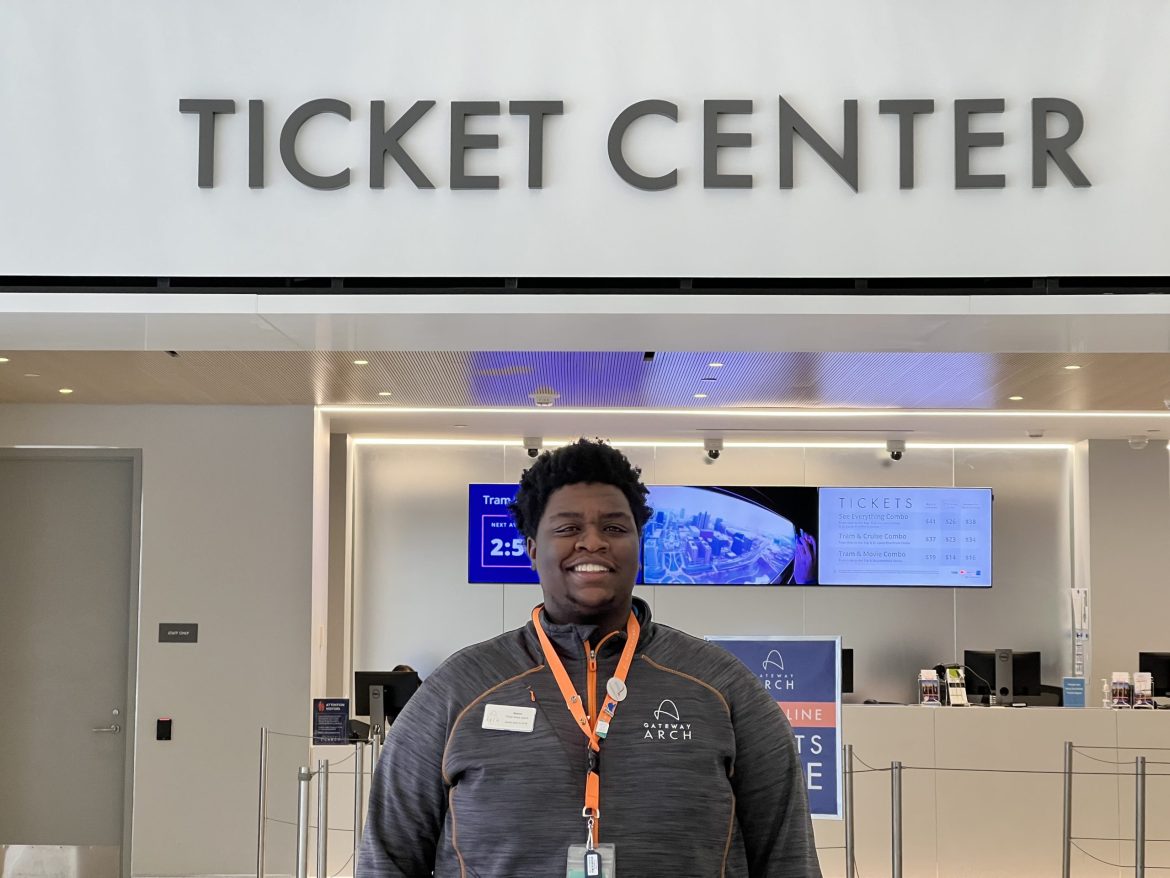 In some respects, Anton Collins is a greeter for the entire St. Louis metropolitan area. As a Ticket Sales Agent at the Gateway Arch, he sees thousands of new faces from all over the world. Many have never visited St. Louis before, let alone the Arch. "You're not just selling the Arch," says Anton, "you're selling St. Louis as a whole. And I want to be part of that experience." 
Helping guests navigate that experience—from the Tram Ride to the Top to the Riverboat excursions —is a key part of the job for all team members at the Gateway Arch. Making sure those guests have a good experience and leave with a smile on their face is one of Anton's favorite parts of the job. 
He recalls one visitor from New York who grew up a Cardinals fan. After taking in his first-ever Cardinals game at Busch Stadium, he stopped by the Gateway Arch. Like many first-time visitors, he had no idea you could ride to the top. Anton helped the guest book the very last tram ticket of the day. He uses the words "thankful" and "grateful" to describe this guest's reaction to such great service. Given his big smile and friendly personality, it's easy to imagine many visitors who meet Anton leave with the same feelings. 
While visitors from around the world are common, Anton says those of us who live and work in town are a less common sight. If you haven't visited in a while, he says there are plenty of new reasons to come back. The Museum at the Gateway Arch, which reopened in 2018, offers new exhibits challenging our perspective on the history of St. Louis and its role in westward expansion. And it's always an eye-opening experience to take in the view of our hometown from 630 feet in the air. 
Anton joined the Gateway Arch team nearly four years ago after a referral from a friend. In addition to working the ticket counters, he jumps in to help wherever there's a need. He has also taken on the role of trainer and mentor, helping the next generation of Ticket Sales Agents learn the ins and outs of the ticketing system and embracing Bi-State Development's Core Values. His dedication to the "Team Member Focused" and "Customer First" Core Values landed Anton Employee of the Month honors at the Gateway Arch in January 2023. Please join us in celebrating Anton Collins as one of the Best of BSD!