This week, the Hospitality Hero Recognition Program from Explore St. Louis celebrated frontline team members from throughout the region who exemplified excellence in service and a commitment to providing customers with a first-class experience. We are excited to announce that seven of our BSD team members were honored with this recognition!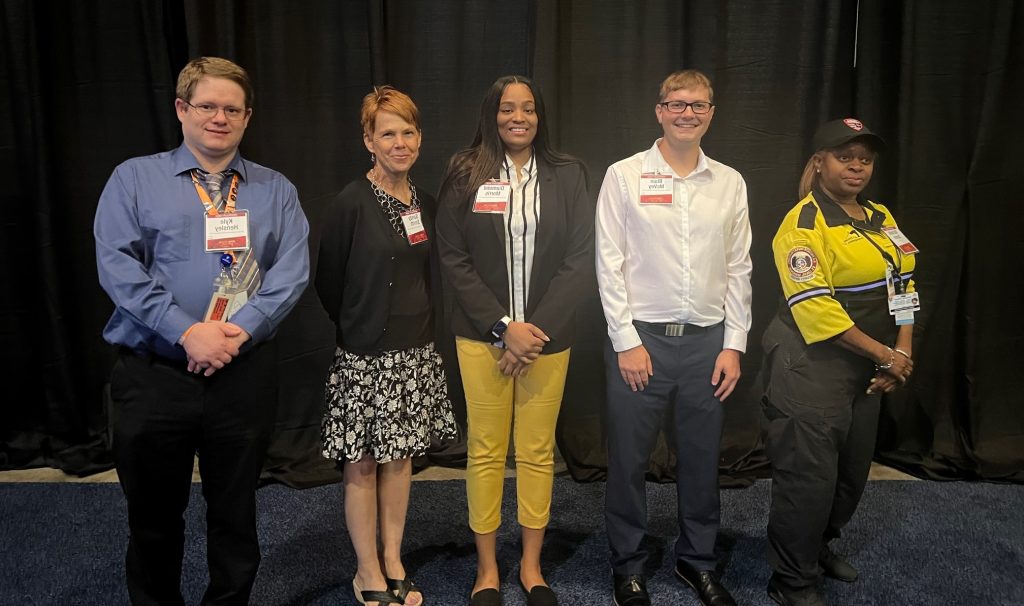 Please join us in congratulating our Hospitality Heroes, and check out the stories below to learn a little more about them:
Photo left to right:
Kyle Hensley – Supervisor of Tram Operations, Gateway Arch
Sandy Smith – Tour Guide, Gateway Arch
Diamond Morris – Tour Guide, Gateway Arch
Blain McVey – Tour Guide, Gateway Arch
Michelle Conner  – Security Officer, Metro Transit
Not pictured:
Derrick Brooks – Ticket Sales Agent, Gateway Arch
Tatiana Jones – Call Center Attendant, Gateway Arch
---
Derrick Brooks – Gateway Arch
Derrick is great at customer service. He goes out of his way to make sure guests know where to go, what time to arrive for events, and how long it will take to get there. He's a wonderful resource for our guests. He is also very conscious of and courteous to military members and veterans, making sure they get discounts on tickets. Derrick was Employee of the Month at the Gateway Arch in June 2022.
---
Michelle Conner – Metro Transit
In Michelle's first year of service to customers of Metro Transit, she showed us how you can change a customer's opinion of transit through care, compassion and professionalism. A family from Burnsville, Minnesota was so impressed with the service they received from Michelle, they took the time at 6:01 a.m. on a Sunday morning to email the Mayor of St. Louis about this one interaction.
Sunday, April 3, 6:01 a.m.
Dear Mayor of St. Louis,
My husband and I arrived in town for the marathon – as you can imagine the logistics can be A LOT!
An important detail was to secure his transportation from our hotel to the start of the race. Fortunately, we were assisted by Michelle, a city ambassador, who ensured we got the correct ticket, knew which line to take, what time, etc.
She answered all our questions, was extremely professional, friendly and demonstrated the highest regard for her city. Michelle left quite an impression!
So much so – we felt it was important you were aware of her dedication and commitment-joy and positivity!
She is truly a wonderful and most outstanding city ambassador!
Be the light-
Annie Young and Ray Quintana
Visiting from Burnsville, MN
---
Kyle Hensley – Gateway Arch
Kyle took wonderful care of one of our new team members, Brian, who had mobility limitations. Brian came to the North leg of the Arch for his first day of orientation. Unfortunately, he was not able to enter due to federal security constraints. That meant he would have to retrace his steps and walk back to the west entrance near the Old Courthouse. Kyle gave Brian the unfortunate news, but instead of just sending him on his way, Kyle saw that he needed assistance. He offered his arm to help steady Brian, and the pair took a half-mile journey until they reached his orientation. Kyle is a reliable, responsible supervisor, and makes a difference every day with his many years of service and extensive knowledge.
---
Tatiana Jones – Gateway Arch
Tatiana helped a new trainee who was struggling to adjust to technology in the call center. The trainee was having issues with the digital phone systems and software. With patience and understanding, Tatiana was able to walk the new hire through the tools step by step until the trainee was able to use it independently. Tatiana is a wonderful team member and trainer who assists supervisors and has great engagement with our guests and callers, as evidenced by the many compliments she's received. Tatiana was Employee of the Month for April 2022 at the Gateway Arch.
---
Blain McVey – Gateway Arch
Blain took the initiative to rearrange two tours so a group would not have to be split up. A large group showed up a little behind their scheduled tour time, and with limited capacity, they needed to be split up into two different tours. Seeing they were unhappy, Blain was able to shift guests around to fill the current tour and let the group have a tour all to themselves. The group thanked Blain for making their experience better and allowing them to experience the Gateway Arch as one group. Blain is a wonderful team member, who is a joy with customers and his colleagues. Blain was Employee of the Month in December 2021 at the Gateway Arch.
---
Diamond Morris – Gateway Arch
A new hire was struggling in training and learning the call center script after working with two other trainers. Diamond worked with him and adjusted her training to fit his needs. Through compassion and understanding, she made a breakthrough. Working together, he made it through training and is working on his own as a valued member of our team. Diamond is a great team member and phenomenal trainer. Diamond was Employee of the Month at the Gateway Arch in February 2022.
---
Sandy Smith – Gateway Arch
Sandy is known for her outstanding customer service and unparalleled guest interactions.  Since the beginning of 2022, she has received eight customer compliments that specifically mention how she has made guests' experiences and visits to the Gateway Arch memorable.  People from all over have commented on social media about how Sandy was one of the highlights of their trip.  She is very knowledgeable and passionate about what she does and you can see that shine through in the daily tours she leads. Sandy was Employee of the Month in October 2021 at the Gateway Arch.