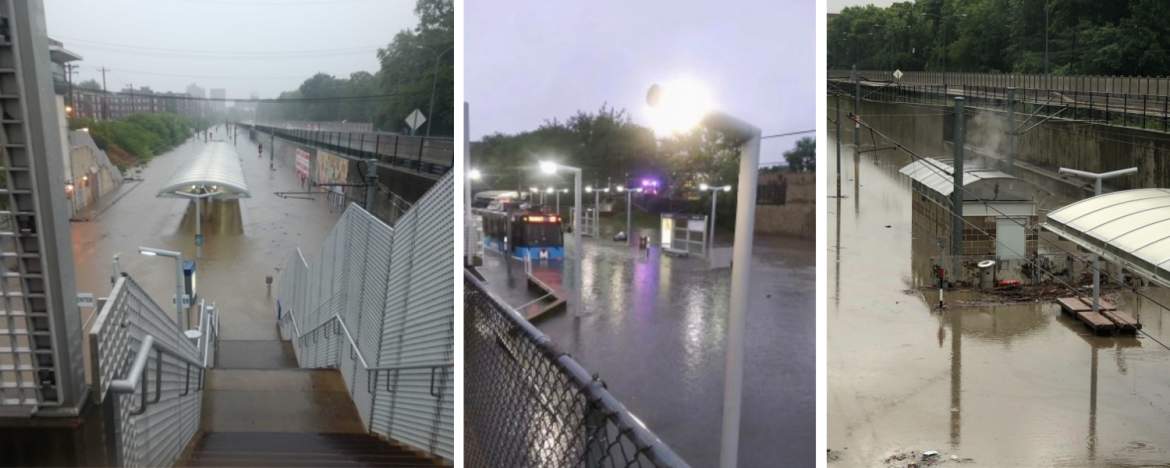 BSD Team:
I am so proud of all of you, especially our operations and rail teams, for stepping up and going beyond the call of duty during this unprecedented time in our history. Team members from across Bi-State Development and our enterprises are supporting our Metro Transit teams by volunteering to help customers catch the bus shuttles at MetroLink stations impacted by this major service disruption. The resilience and dedication you have demonstrated over the last few days is inspiring.
Fortunately, there were no injuries to any of our customers, operators, contractors or team members during this flash flooding event. But, it has had a dramatic impact on our transit system. The Metro Transit team and our contractors are working around the clock to continue to assess damage and make repairs to restore train service to the MetroLink light rail system west of the Central West End Station. We estimate damages will range between $18 and $20 million. We are requesting emergency federal and state funding to help cover those losses caused by this unprecedented weather event. Our Metro Transit team has made tremendous strides on restoring partial service during the past 48 hours and they will continue their extraordinary efforts.
MetroLink equipment between the Forest Park-DeBaliviere and Delmar Loop Stations sustained the most significant flood damage with one MetroLink train expected to be a total loss, as well as station elevators, MetroLink communications and fiber optics, the MetroLink signal system, and damage to the light rail track beds. A Metro Call-A-Ride vehicle trapped in the flash flooding on Tuesday is also expected to be a total loss. Deer Creek, which is next to the Brentwood MetroBus Facility, flooded and water surrounded our building, preventing us from deploying MetroBus vehicles from that facility on Tuesday morning and afternoon. We used vehicles from other MetroBus facilities to get MetroBus service on the street on Tuesday, and moved our electric buses to the Central MetroBus facility. This record rainfall and historic flooding have impacted all areas of our transit system.
What has sustained us through one of the most challenging periods in our history is you. Many of you are working long hours and overtime to support one another and serve our community. And what makes this more inspiring is that some of you are flood victims yourselves and have damage to your homes and personal vehicles – but you have stayed on the job to help keep our region moving.
To support our colleagues in need, the BSD Board of Commissioners has authorized the addition of $5,000 to our Helping Hand Fund. This fund was established to help team members who are facing hardship. To donate to the fund, log in to Philanthropy Cloud, available on the App Store and on Google Play.
If you are in need, the Helping Hand Fund is here for you. Click here for a Helping Hand Fund Application and apply for assistance. If you have any questions or need more information, please contact the BSD Benefits Department at 314.982.1400, x3006.
Thank you,

Taulby Roach
President & CEO, Bi-State Development