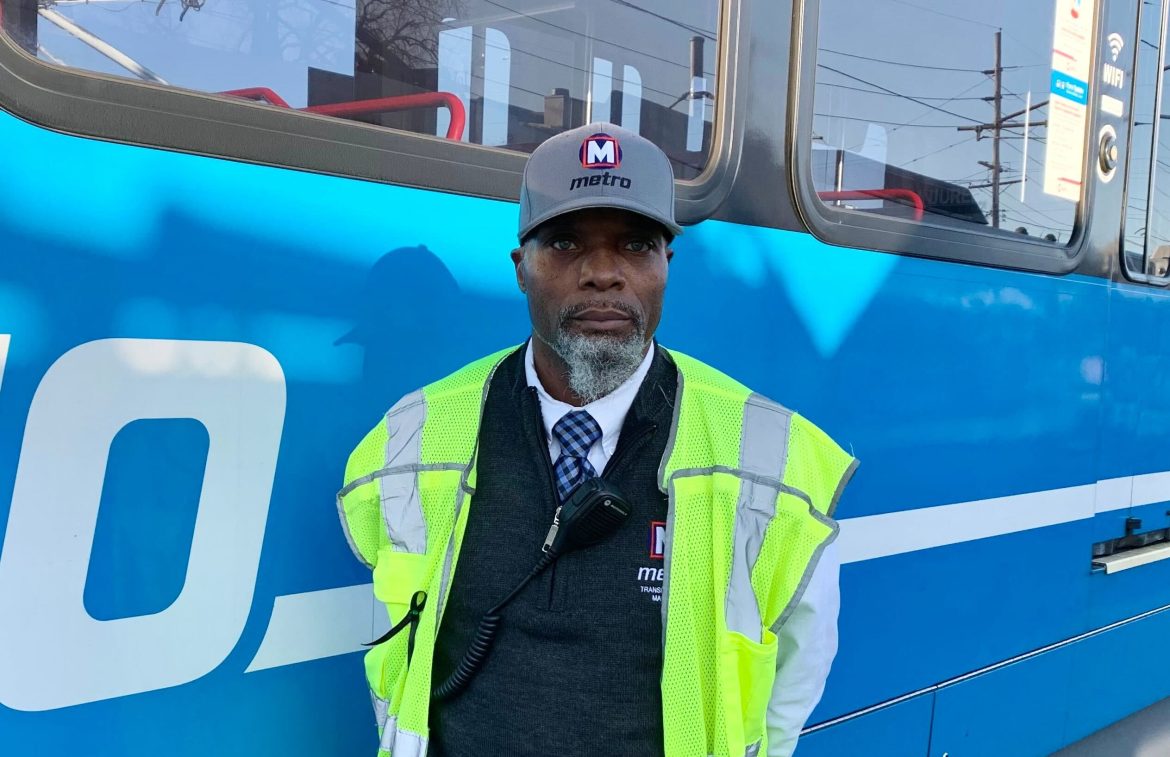 Team Member Spotlight: Diondre Fulton
Customer service is a top priority for our Metro Transit team. Engaging our customers, providing assistance and care, and delivering quality service is the cornerstone for building meaningful, positive relationships with the people and communities we serve. MetroLink Transit Service Manager Diondre Fulton embodies this commitment.
Diondre has been a member of the Metro team for 16 years. Throughout his tenure, he has taken on many roles and became a favorite Operator for many of our riders. Diondre spent 13 years as a MetroBus Operator, two years as a MetroLink Operator and is currently a MetroLink Transit Service Manager.
Diondre recently received a customer commendation from a young man who needed to get home after service. Our rider was expecting to walk an hour and a half home with a dead phone, but Diondre stepped up to order him a complimentary Lyft ride. The Lyft didn't have to go too far, but Diondre's kindness and compassion certainly went the distance.
The customer commendation specifically described Diondre as "approachable, patient, and kind." When asked what he does to be approachable, patient, and kind, Diondre said, "I put myself in their shoes, 'What would I want someone to do for me if I was in their situation.' I also understand the need for great service, especially after buses and trains stop running in the evening and someone is stranded. It's the job so I go out there to do it how it's supposed to be done."
Thank you, Diondre for your compassion, dedication and kindness. Keep up the great work – we're excited to hear about you from more happy riders! Get to know a little more about Diondre in our Q&A below.
What does a normal day at work look like for you?
It depends on the day, if we're short operators I might have to move a train around the yard or operate it in service until we have an operator come in or until the end of service. Any given moment can be different depending on what's happening.
What was your first job?
It was a summer job that taught me how to fill out job applications, write a resume, and a cover letter. But the biggest thing it taught me was that I like to make money.
Favorite thing about working at Metro?
My favorite thing is interacting with riders and making their day better. When I was a bus operator, I had riders that would only ride with me.
What's on your bucket list?
I wouldn't mind trying sky diving and parasailing.
What do you like to do outside of work?
I really enjoy spending time with my grandbabies and being there for the family. They're the joy of my life and they make me feel like there's no one more important in the world.