Team Member Spotlight: The Training Department
Team Members Gia Outlaw, Geno Spearman and Angela Simmons work as Operator Training Instructors in the Training Department at the Illinois MetroBus Facility. The dedicated team has more than 70 years of combined experience among them, and they work hard to train our new MetroBus and Metro Call-A-Ride (CAR) Operators on how to operate and drive a MetroBus and/or a CAR van. They provide route training to prepare for major service changes, and vehicle training when we get new vehicles like the articulated buses. The Instructors also train our Transit Service Managers (TSMs) and Public Safety Transit Security Specialists (TSSs) who work in the field on how to operate the vehicles. They may have to get behind the wheel if there is an emergency situation where our operators are unable to drive their vehicles or when extra Operations staff members may be needed to drive. They also provide Bus and Van Operator Refresher Training (BORT/VORT) as time and manpower allows, as well as periodic Line Instructor Certification classes for veteran operators who assist during training.
Training includes gathering resources, creating and preparing training materials, teaching trainees how to operate a MetroBus vehicle and CAR van, ensuring Metro Transit operating policies and procedures are being followed, providing actual CDL license training and providing refresher training for operators who have had an accident. The classroom and in-the-field training sessions include a variety of topics such as AVL, Farebox, Driver Paddles, Defensive Driving, Mapping for CAR, ADA Sensitivity, Mobility Device Securement, Rules and Regulations, De-escalation Strategies and Customer Service Fundamentals to ensure the trainee can operate the vehicle in a safe and professional manner, and assist our customers. After training, the instructors randomly ride along with new operators to ensure they are still correctly performing all of the duties they learned in training. The team is dedicated to helping our team members succeed and take pride in sharing their knowledge and experience with their students.
Meet Gia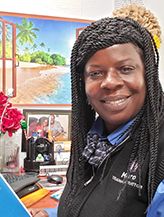 Gia Outlaw has been with BSD for 23 years. She began her transit career in the Metro Call-A-Ride (CAR) Department as a Van Operator and Line Instructor for nine years, and as a Reservationist for one year. Thirteen years ago, she joined the Training Department. Gia says, "I really enjoy working as a Training Instructor because I like teaching, sharing the knowledge and encouraging others like our operators to be their best self." Over the years, Gia served as a volunteer Ambassador for many of our special events. She became a certified Zumba instructor and taught Zumba classes at most of our facilities as part of our Wellness program for 10 years. She also traveled and taught Zumba professionally outside the company. Prior to coming to BSD, she was a Data Entry Operator at Angelica Uniform Company. When Gia is not at work, you can find her playing her Xbox game system and crafting. She creates flower arrangements and repurposes things, like the car tire she made into a seat cushion. She also likes to do event planning when she's not traveling and spending time with her family.
Meet Geno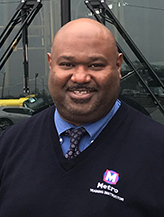 Geno Spearman has been with BSD for 27 years. He started his transit profession as a CAR Van Operator for two years before becoming a MetroBus Operator for 13 years. Geno worked as a Reserve Training Instructor for five years prior to becoming an Operator Training Instructor over the last 12 years. Geno loves to help the operators overcome the fear of driving a large vehicle. He said, "It's amazing to watch them drive a bus or a van. Never say you can't. You'll be surprised at what you can do when you put your mind to it." He also knows the importance of making sure the students are comfortable while training. He cracks a joke every now and again. He said, "When they are comfortable, you know they are listening. They can hear the joke to hear the lesson." Whenever he visits a Metro Transit facility, he sees many of the operators, TSMs and TSSs he trained, and has built a good rapport with them. He mentioned, "You are forever connected to the Training Department. We continue to provide support to everyone." Prior to working at BSD, he worked for three years as a Shift Lead at a specialized living center for people with disabilities. Outside of work, Geno is busy traveling and riding his collection of bikes like his dirt bike, ATV, Can-Am and motorcycle. Geno is also a talented musician who plays the trumpet, drums and keyboard, reads music and sings songs in his family's gospel group — The Spearmans.
Meet Angela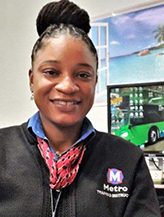 Angela Simmons has been with BSD for 21 years.  She began her transportation career working as a CAR Van Operator and Line Instructor for 16 ½ years before moving to the Training Department. Angela said she loved working at CAR because she was not only able to help the customers, but help her co-workers too. She mentioned CAR is where she received some good life teachings. The spirit of helping others has carried over to the Training Department. Angela said, "I like coming to work to help others and I love training our team members. You give them all you got and that's what I do."  Prior to joining BSD, Angela served as a Truck Driver and Administrative Specialist in the U.S. Army for 9 ½ years. Her last tour of duty was in Iraq. When Angela is not at work, she is at home working out on a daily basis. She loves spending time with her husband and two sons. Angela also likes to do home renovations. She recently built a headboard, desk and fire pit.