Team Member Spotlight: The Schifferdecker Family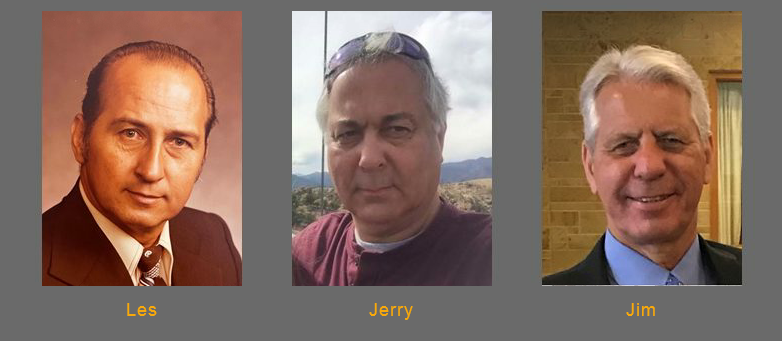 The Schifferdecker name has been connected with Bi-State Development (BSD) for nearly 60 years. Les Schifferdecker began his transit career in 1945 at Belleville St. Louis Coach — one of the 15 private transportation companies BSD purchased in 1963 when it started operating as the first regional transit system in the St. Louis area. Les started at BSD as a Mechanic in the Bus Maintenance Department and worked at several different garages back in the day, including the then 39th & Park, North Hanley and Belleville Bus Garages. Working his way up through the ranks, Les became the Superintendent for all the bus garages, Director of Quality Control and Superintendent of Facilities Maintenance before he retired from BSD in 1986. He is Jim and Jerry's father.
His son Jerry started his career at BSD in 1973 as a 1A Bus Mechanic at the South Broadway and the first DeBaliviere Bus Garage. A few years later, he worked as a Night Shift Repairman and eventually a Day Shift Repairman at several garages, including the Belleville, the then East St. Louis Bus Garage, Brentwood and the current DeBaliviere Bus Garage. In the 1990s, Jerry continued to move around, working as a Repairman for the Right of Way (ROW) Maintenance Department. Like his dad, he too moved up the ranks becoming a Facility Maintenance Supervisor for the Brentwood, Headquarters and Main Shop Facilities. Jerry became the ROW Maintenance Supervisor at the Swansea Facility in 2009. There he supervised nearly a dozen team members whose responsibilities included maintaining our Park-Ride lots and MetroLink stations in Missouri and Illinois, as well as other BSD properties. The maintenance work included things like cutting the grass, shoveling the snow, and repairing pot holes on the parking lots so that our customers would have a good experience when they accessed Metro Transit. Although Jerry really wanted to stay here at BSD for another two years, he decided to take advantage of the HERO early retirement initiative program and retired on January 1st of this year. Talk about dedication. Jerry worked at BSD for 48 years! Prior to joining BSD, he worked in aviation maintenance, but the airlines were not hiring at the time. He said, "The job at BSD came up. It paid well, the work was steady and the benefits just kept progressing, so I stayed." He sums up his experience here by saying, "It's been fun and I will miss the people the most." Now that Jerry is retired, he will continue to spend quality time with his two daughters and three grandchildren. He also plans to spend more time in Colorado and continue to restore his vintage, muscle cars.
His brother Jim began his career with BSD in 1979 as a bus fueler/cleaner at the Hall Street Bus Garage. He also worked at the Belleville, the then East St. Louis, 39th & Park and South Broadway Garages. In the 1980s, Jim moved around and quickly accelerated into other positions at BSD. He was a Bus Mechanic and a Time and Material Coordinator before he moved into management with the Finance Division at the DeBaliviere MetroBus Facility. There, he became a Field Auditor, Assistant Supervisor of Revenue Collection, Revenue Analyst, Fare Box Maintenance Supervisor and Manager of Revenue Control. Since 2013, Jim has been the Director of Passenger Revenue. In his current role, he manages 34 team members and oversees three departments. The Pass and Ticket Sales Department is responsible for filling Metro Transit ticket and pass orders for our commercial vendors. The Revenue Operations and Maintenance Department is maintaining 400 MetroBus fare boxes, more than 125 Ticket Vending Machines (TVMs) at all the MetroLink stations, and 160 ticket validators that our customers utilize, which are located on or near the MetroLink platforms. The Transit Revenue Department is responsible for collecting the fare from the TVMs and ensuring loss control systems are in place to account for all the fares collected. One of Jim's favorite moments in his career at BSD was when MetroLink opened in 1993. He said BSD was very popular and things were going well. When he began his career at BSD, he actually had two full-time jobs for a while. He was already working full-time at another business, but eventually he let that job go because he received a lot more overtime at BSD, the benefits were good, and he was able to advance his career here. He said, "After 20 years, it was pretty hard to leave and everything just worked out." He too is taking advantage of the HERO early retirement initiative program and will retire this year on May 1st. He says, "It's bittersweet because I am not really ready to retire. It's been a long 42 years, but it is time to move on." What's next on the horizon for Jim? Like his brother, he plans to get more involved with cars — buying and selling classic cars, and traveling more, especially to Colorado. Jim has enjoyed jogging since high school. He used to jog six miles a day, but when the pandemic began, he had to slow down. Now that he's retiring, he will have even more time to jog. Jim plans to spend more time with his wife of 31 years and his two adult sons.
Jerry and Jim never got the opportunity to work with their father at the same BSD facility at the same time, but they say they had a good run. "We are glad to have had the experience of working here together as a family at BSD." Together, Les, Jerry and Jim have 131 years of transit experience between them.
We thank Les, Jerry and Jim for all the contributions they have made over the years, and wish them good luck and congratulate Jerry and Jim as they begin the next chapter of their lives.