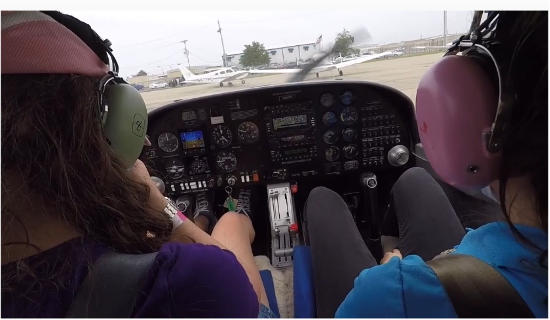 If you've ever wondered what it would be like to experience the thrill of flight from the cockpit of a small airplane, you can now come close thanks to Girls in Aviation Day which was presented virtually this year. Hosted on September 28 by Saint Louis University's Parks College of Engineering, Aviation and Technology, in partnership with Women in Aviation International (WAI), the popular event returned for its third year but in a fully online format this year due to the COVID-19 current social distancing requirements. That means opportunities typically only open to participating students can now be enjoyed by you and other flight enthusiasts.
The highlight of Girls in Aviation Day featured a virtual instrument flight where participants were able to "ride along" in an aircraft with flight instructor Allison Adams and aviation student Holly Wilson to get a first-hand look at a flight lesson. As part of the live demonstration, viewers listened to communications between Adams and Wilson and the control tower, observed the aircraft taxi from the airport terminal to the runaway, complete a final check before takeoff and more.
From departure at St. Louis Downtown Airport to touchdown at Scott Air Force Base and back, the 20-minute or so journey highlights an instrument flight where the pilot navigated only by reference to the instruments in the aircraft cockpit without looking outside the plane during the flight. Observers also learned that Wilson was wearing foggles during the flight, which are glasses that have been made to simulate foggy conditions. Foggles are frosted on the top half to limit the vision of pilots and force them to use only the flight instruments as they replicate flying during a low ceiling of clouds, heavy fog, nighttime and other conditions. You can experience the virtual instrument flight for yourself by clicking here, while all the other great content presented during the event is available by clicking here.
Beyond the virtual flight experience, the webinar included career exploration sessions where students had the opportunity to talk with representatives from various companies and organizations in the aviation industry about job opportunities and the paths to take to secure those types of positions. The program also featured a panel of Park's College aviation students and guest presentations from Captain Andrea Lewis, 116th Air Control Wing, GA Air National Guard; and Stephanie McCloud, Founder of Take Flight Girls, Inc.
"Despite changing to an online format this year which prevented us from hosting the students here at St. Louis Downtown Airport, we were pleased to see the various sessions offered virtually to help the effort to grow the future generation of aviation professionals," said Erick Dahl, director of St. Louis Downtown Airport.
To learn more about Girls in Aviation Day or opportunities to participate in future events, contact Amy Preis at Saint Louis University's Parks College of Engineering, Aviation and Technology via email at email hidden; JavaScript is required. For more on Women in Aviation, visit https://www.wai.org/.
St. Louis Downtown Airport is owned and operated by Bi-State Development. It is located a few minutes east of downtown St. Louis and the Gateway Arch on 1,000 acres in Cahokia and Sauget, Illinois.