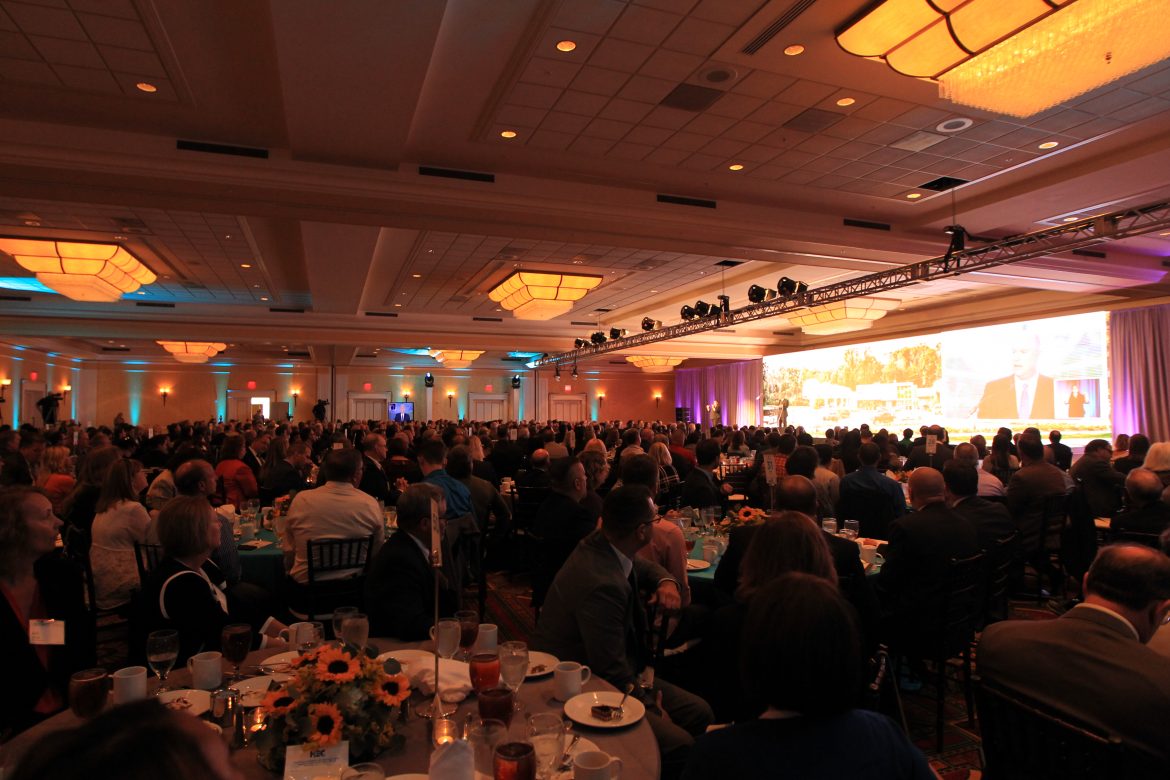 Top business, civic and elected leaders from the St. Louis region joined representatives of Bi-State Development (BSD) for the organization's 2016 annual meeting on October 28 in St. Louis. The event celebrated the regional accomplishments and brought people together to foster collaboration aimed at elevating regional growth while featuring remarks from St. Louis County Executive Steve Stenger, St. Clair County Board Chairman Mark Kern, and St. Louis Mayor Francis Slay, and concluded with a keynote address by Missouri Governor Jay Nixon.
David Dietzel, Chairman, Bi-State Development Board of Commissioners, welcomed 650 people in attendance, noting how the collaboration of those at the event is helping to make the St. Louis region great. "Your presence here today demonstrates a mutual commitment to regional partnerships that elevate opportunities for economic growth," Dietzel said.
St. Louis County Executive Steve Stenger discussed the potential for MetroLink expansion, sharing that he believes the region in is on the right track. "The bottom line is we have the will and capacity to grow MetroLink, and we're going to do it the right way," Stenger said.
He went on to commend Bi-State Development for the role it plays today in delivering the transit services the region already has. "St. Louis County residents want to see their tax dollars spent wisely, and that's just what Bi- State does," said Stenger.
St. Clair County Board Chairman Mark Kern shared insight on the challenges of the moving market and the need for policymakers to forge partnerships and cooperative strategies that are conducive to innovation and long- term infrastructure development. He also stressed the importance of cooperation that transcends city, county and state political boundaries.
"It is critical for us to invest in a vision for our region – a future that anticipates an ever-changing economy," Kern said. "We are not here today just for the 'transit business' – we are in the community business – a community that spans two states, seven counties and dozens of cities. Our success is intertwined in what kind of future we might build together."
Francis Slay, Mayor of St. Louis, highlighted the outstanding work that Bi-State Development's newest enterprises have been doing to help the region compete nationally and internationally. He also reinforced the need for additional transit investment in the St. Louis area, noting the role transit plays in stimulating economic development, enhancing regional connectivity and providing better transportation options for area residents and visitors. During his remarks, Slay announced Carolyn Flowers of the Acting Administrator of the Federal Transit Administration (FTA) would be coming to St. Louis next week to tour the proposed North-South MetroLink alignment and learn more about the City's plans for using a $375,000 FTA grant to advance the critical project.
"Expanding access to transit is about more than moving people from point A to point B. It's about catalyzing development in struggling neighborhoods, deconcentrating poverty, promoting healthy living and creating vibrant and accessible public spaces," said Slay. "I am proud of what we have achieved so far, and I'm excited about where we are going. I know that we have the partners in this room to make our efforts successful."
Following Mayor Slay's remarks, Nations presented the mayor with the Bi-State Development Leadership Award recognizing Slay's relentless support of Bi-State and its mission, and his role as a champion of progress and growth for the entire region over the past three decades. "All of our lives, not just in the city but across the region, are better for your leadership," said Nations.
Prior to welcoming Missouri Governor Jay Nixon to the stage, Nations talked about how 2016 will go down as one of the most rewarding and successful years in Bi-State Development's 66-year history. With regards to public transportation, Nations highlighted Bi-State Development's Metro transit division, which is the national leader in efficiency and reliability – moving more than 800,000 passengers each week – and was recently recognized by the U.S. Department of Transportation as a case study for the country on the management of transit assets. Nations also highlighted the work of Bi-State Development's Tourism Innovation team to transform the Gateway Arch Riverfront experience, and noted the success of the Bi-State Development Research Institute in procuring more than $1.5 million in grant funds designed to assist Bi-State Development in its efforts to improve communities and elevate the quality of life for individuals across the St. Louis area. In addition, Nations noted the key role that St. Louis Downtown Airport is playing in the business aviation market. With an economic impact now approaching $600 million, the airport is one of the largest concentrations of private sector employment in St. Clair County, while also serving the business aviation needs of Downtown St. Louis. Finally, Nations recognized the progress of its Regional Freightway enterprise, which in just one year, has made dramatic progress in developing the region as a key freight and logistics center.
During the keynote speech, Missouri Governor Jay Nixon highlighted his administrations' key accomplishments over the past eight years, and touted the successes happening right here in the Bi-State area. Among the successes he touched on were the growth underway at the Cortex Center for Innovation, the recently announced expansion plans for Ballpark Village and the outstanding work being done by Great Rivers Greenway to create an unmatched system of trails and greenways.
"Everywhere we go in this region, good things are happening," said Nixon. "Clearly, that's a testament to each and every one of you here today. We can't ignore the good things going on. It's going to be up to us to be proud and to promote."
In closing, Nixon said, "I've learned that Missourians are strong, more resilient and more generous than anyone. And when we work together, we will continue to make a difference."
The event was supported by a range of sponsors who share BSD' commitment to move the region forward, including Presenting Sponsors Lowenbaum Law and the law firm of Lashly & Baer, and Leadership Sponsor Enterprise Holdings. The 2017 annual meeting on October 6 will feature keynote speaker James Bullard, the President and CEO of the Federal Reserve Bank of St. Louis.
About Bi-State Development
Bi-State Development (BSD) is the operator of the Metro public transportation system for the St. Louis region, which includes the 87 vehicle, 46-mile MetroLink light rail system; 391 MetroBus vehicle fleet that operates on 77 MetroBus routes; and Metro Call-A-Ride, a paratransit fleet of 120 vans. BSD also owns and operates St. Louis Downtown Airport and the Gateway Arch Riverboats, as well as operates the Gateway Arch Revenue Collections Center and Gateway Arch trams. BSD also operates the Bi-State Development Research Institute and the St. Louis Regional Freightway, the region's freight district.