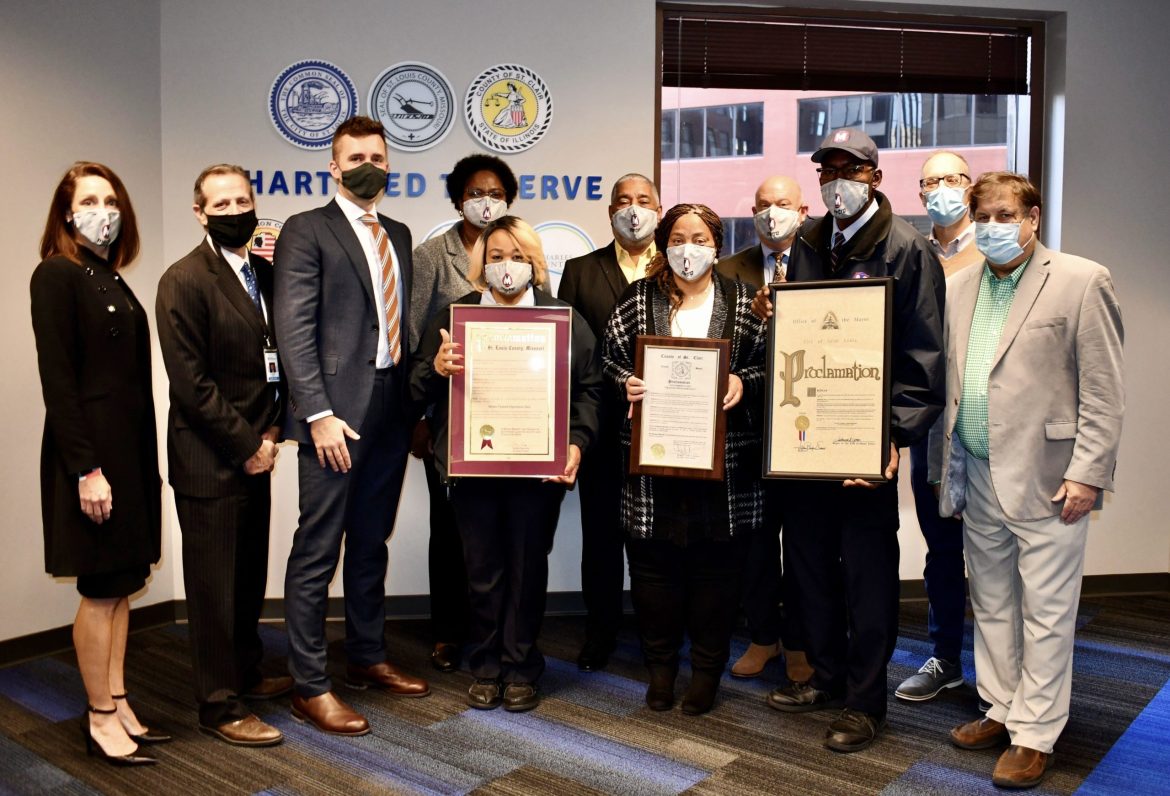 The Bi-State Development Board of Commissioners and its transit partners – the City of St. Louis and St. Louis County in Missouri and St. Clair County in Illinois, today issued special proclamations honoring MetroBus, MetroLink and Metro Call-A-Ride Operators for their exceptional service and dedication as they have served on the front line throughout the COVID-19 pandemic, going beyond and above to provide public transit service for the bi-state St. Louis region. November 19, 2021, was declared as Metro Transit Operators Day in each jurisdiction, while the Bi-State Development Board of Commissioners declared the date specifically as MetroLink, MetroBus and Metro Call-A-Ride Operator Day.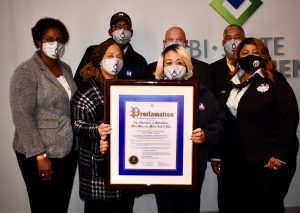 Three of Metro Transit's operators from each transit mode were invited to attend the presentations which took place during the Bi-State Development Board meeting. MetroBus was represented by operator Kimberly Evans, who was saluted for having had perfect attendance since the start of the COVID-19 pandemic and for her 25 years of service with Metro Transit. MetroLink operator Jackie Williams was recognized for her 25-year commitment to the transit agency, and Metro Call-A-Ride operator Jerome Pampkin has worked at Metro Transit for 12 years.
"Thank you and to all of your fellow operators for your service, especially during the past 19th months as you've faced challenges unlike any seen before in our history," said Justin Zimmerman, Vice Chair of the Bi-State Development Board of Commissioners.
While the wording on each proclamation varied slightly, the common theme running through them highlighted the vital access Metro Transit provided during the pandemic for other front-line workers at hospitals, urgent care centers, health care facilities, pharmacies, grocery stores, nursing homes and other businesses and organizations. The role the transit service played, and continues to play, in helping the economy to recover was also highlighted, with the operators delivering that service being hailed as exceptional, courageous and nothing short of heroic.
Taulby Roach, Bi-State Development President and Chief Executive Officer, commented on the significance of the honor being bestowed. "What this means is that we are actually standing behind you. Front-line workers means front line. And you all have been out in front in the face of the pandemic. Recognizing your everyday work and your courage is what today is all about," said Roach, who also recognized Metro Transit's management team Metro Transit Executive Director Jessica Mefford-Miller, MetroBus General Manager Trenise Winters, Call-A-Ride General Manager Jeff Butler and MetroLink General Manager Martin Gulley.
Paul Hampel, a policy advisor in St. Louis County Executive Sam Page's administration and a MetroLink rider, represented Dr. Page at the presentation.
"Mr. Morris, a 10-year veteran of the Metro Transit organization, picked me up this morning at the Brentwood MetroLink Station and his pleasant and professional manner made the trip outstanding today. It just reminds me that, every day, these awesome operators take us as far east as Scott Air Force Base, as far west as Eureka, as far north as Spanish Lake and all the way into the farthest corners of South St. Louis County, said Hampel. "It is a pleasure to be here on behalf of St. Louis County to honor these people."
Don Roe, executive director of the Planning and Urban Design Agency for the City of St. Louis, was on hand to represent Mayor Tishaura Jones. "In that role, I work a lot with the people in this building because we're looking at collaboration as to where the stations go, as dots on a map and lines between the two, but what we've just witnessed is really the front line that gets people from place to place," said Roe. "And it is with great gratitude that during the COVID time that people boarding a transit opportunity may not have seen the driver, but they heard their voice over the speaker, and it may be the first voice they hear, their first connection to the outside world beyond their family, and that truly is the front line and truly is to be commended."
Roach read a portion of the St. Clair County Proclamation as Chairman Mark Kern and his designee were unable to attend in person. It highlighted the new challenges the COVID-19 global pandemic brought to the nation, the bi-state region and to St. Clair County in 2020 and 2021 and how those challenges meant the need for access to public transit reached a critical level for so many other front line workers. It saluted transit operators for going above and beyond to provide essential transit service for the St. Clair County Transit District community, even during the most uncertain points of the global pandemic, honoring them for their resilience and dedication.
In all, Metro Transit has 930 operators working tirelessly to deliver essential public transit services across the bi-state region, but like so many other employers nationwide, it desperately needs more. An estimated 150 openings for operators, mechanics and electricians need to be filled in order to return service to pre-pandemic levels. Hiring bonuses of up to $2,000 are available for those who apply and are hired for select transit positions, and job seekers looking to start a rewarding career will also receive competitive compensation and benefits packages and retirement employer contributions. Those interested in learning more about new career opportunities with Metro Transit are invited to check out one of the upcoming hiring events currently being held on the second Saturday of each month at the Metro's Central Facility, 3300 Spruce Street, St. Louis, MO  63103, or visit www.WorkatMetroSTL.com.