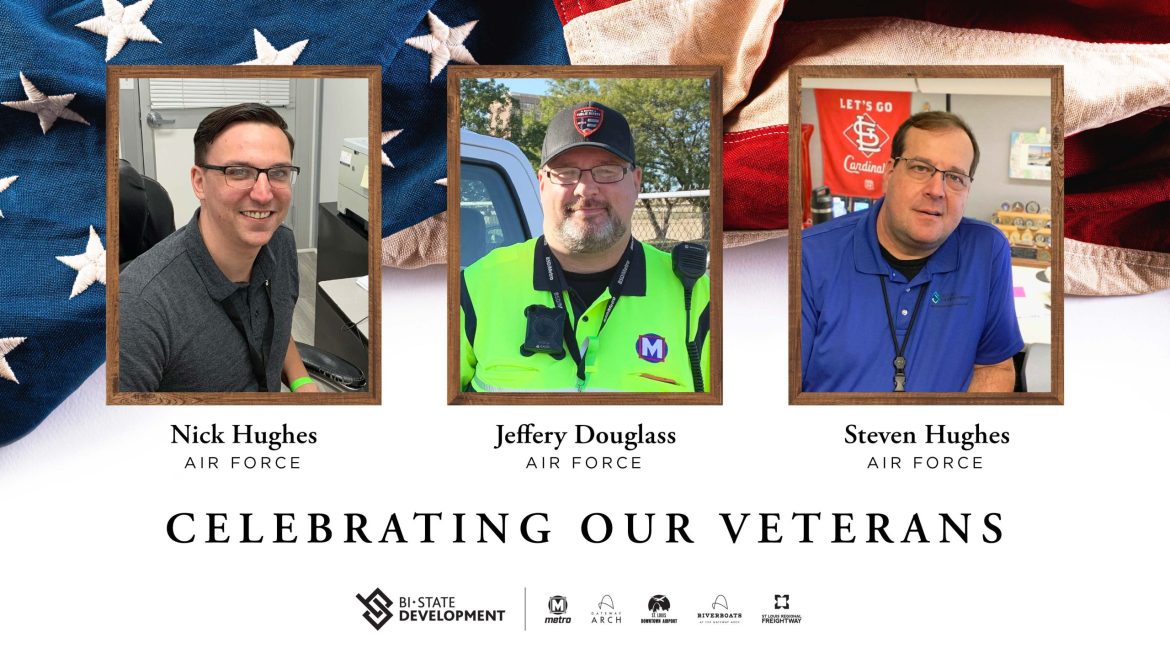 Air Force Veterans Spotlights: Jeffery Douglass, Nick Hughes and Steven Hughes
In August of 1907, the U.S. Army Signal Corps established a small aeronautical division tasked to "take charge of all matters pertaining to military ballooning, air machines and all kindred subjects." As air combat evolved throughout the 20th century to become a vital part of the nation's defense, the National Security Act of 1947 was passed to create the Department of the Air Force, which established the United States Air Force. Since its inception in 1947, the U.S. Air Force has carried out its mission "to fly, fight and win – airpower anytime, anywhere. Whether full time, part time, in or out of uniform."
BSD would like to thank team members that are Air Force Veterans who helped carry out that mission during their time in the Air Force. Thank you all for ensuring our freedom and doing your part at BSD day-in, day-out!
We are proud to have several Air Force veterans on the BSD team. Read below to learn more about three of our colleagues who have served: Jeffery Douglass, Nick Hughes and Steven Hughes.
---
Jeffery Douglass – Transit Security Specialist
Military Experience
SSgt Jeff Douglass Sr. enlisted in the Air Force in December 1999. Douglass was an Information Management specialist at Scott AFB and at the Pentagon. Deployments include Operations Iraqi Freedom and Enduring Freedom.
How long have you been working here?
I've been here since March 15, but I was with the previous private security contractor for 8 years. Things are a lot more cohesive; there's more comradery.
What energizes you at work?
Helping the public, making sure that when people use the transit system they get to where they're going and then get home. On the other hand I get to come here and do a job I enjoy, and it pays the bills.
What do you like to do outside of work?
Play video games with my kids, go for walks with the dogs, ride my motorcycle, and we do some target shooting occasionally.
---
Nick Hughes – Paratransit Reservation Clerk
Military Experience
SrA Nicholas T. Hughes enlisted into the Airforce in August of 2013, where he served as an enlisted Crew Chief on the KC-135 in the 22 Aircraft Maintenance Squadron at McConnell AFB. Hughes deployed to Qatar in support of Operation Enduring Freedom and Inherent Resolve and left the service after 4 years in August 2017.
How long have you been working here?
Three months
What energizes you at work?
I like working, it is something that keeps me focused on a task and my workflow keeps me busy.
What do you like about the St. Louis area?
There's a ton to do in the area and I like the feeling of community and connection.
What do you like to do outside of work?
I'm a giant nerd, I built my own computer and I'm pretty interested in computers. But I also like to hang out with friends and hike.
---
Steven Hughes – Programmer/Analyst III
Military Experience
MSgt. Steven M. Hughes enlisted in the U.S. Air Force in April 1984. Steven served in various positions in the Aircrew Life Support field including 60th Air Mobility Wing Aircrew Life Support Superintendent, managing C-5 and KC-10 life support operations. He also served as a recruiter in Pasadena, CA from 1990 – 1994. Steven retired from the Air Force in November 2004.
How long have you been working here?
It'll be ten years in March, I started here as a contractor and was hired as a full-time employee after six months.
What energizes you at work?
There's something different every day. Because of everything that we do we get to interact with every part of the agency, all the different enterprises. It's nice to have a variety of tasks.
What do you like about the St. Louis area?
I like the history and we live in a smaller town across the river so it's not as hectic over there but if we want to come into the city we can.
What do you like to do outside of work?
I play guitar and I do a lot of walking. Specifically rucking which is when you put weight in a backpack and walk so over the past few years I've done a lot of virtual 5Ks rucks. At the start of the pandemic I took up gardening and I'm involved with a program called Heroes to Hives through the Veterans Administrations so I'm working on a beekeeping certification.