Team Member Spotlight: Gina Wallace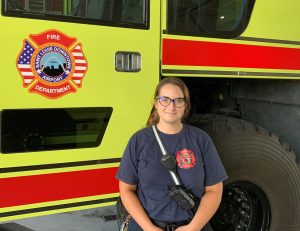 Gina Wallace is one of the newer faces at BSD. She's an Airport Operations Specialist at St. Louis Downtown Airport and is one of the airports more recent hires. She's part of the team that maintains and manages all of the items needed for safe, smooth and efficient operations for the airports tenants, pilots and visitors, and she's certified in aircraft rescue and firefighting. There are a wide variety of duties and responsibilities, and every day is a little different.
"Recently, there has been a lot of grass cutting. The airport is a lot bigger and has a lot more grass than people realize," Gina said. "On a normal fire shift, I do truck and airfield checks. Some days we need to clean or run equipment."
Gina isn't only the newest Airport Operations Specialist – she's also the only female specialist at the airport. Aviation and other related industries have historically been seen as male-dominated, and industry leaders are looking for better opportunities to introduce more women to this field. Gina has advice for anyone interested in this line of work.
"If I can do it, anyone can," Gina said. "My biggest piece of advice is to try out a volunteer department. They'll pay for your school and certifications, including state certifications along with plenty of experience. If you have an interest in something, just go for it."
Welcome to BSD, Gina! Check out our Q&A below to learn a little more about one of our newest team members.
How long have you worked at St. Louis Downtown Airport?
I got hired at the beginning of August.
How did you get started in this industry?
I became a volunteer firefighter in 2017. In 2018, I took a yearlong course at Southwest Illinois College (SWIC) to get Aircraft Rescue and Fire Fighting (ARFF) certified. After that, I got hired at MidAmerica St. Louis Airport, where I got promoted to Firefighter, Public Safety Officer. Now I'm here!
What do you like to when you're not working?
Taking care of my daughter has been the main thing, but outside of that I like to hike, camp, ride my motorcycle and be outside.
Are you from St. Louis?
I've always been around this area, I grew up in Belleville. I went to Collinsville High School then attended SWIC for school and my fire certificates, then moved to Lindenwood to finish my degree.