Team Member Spotlight: Earl Williams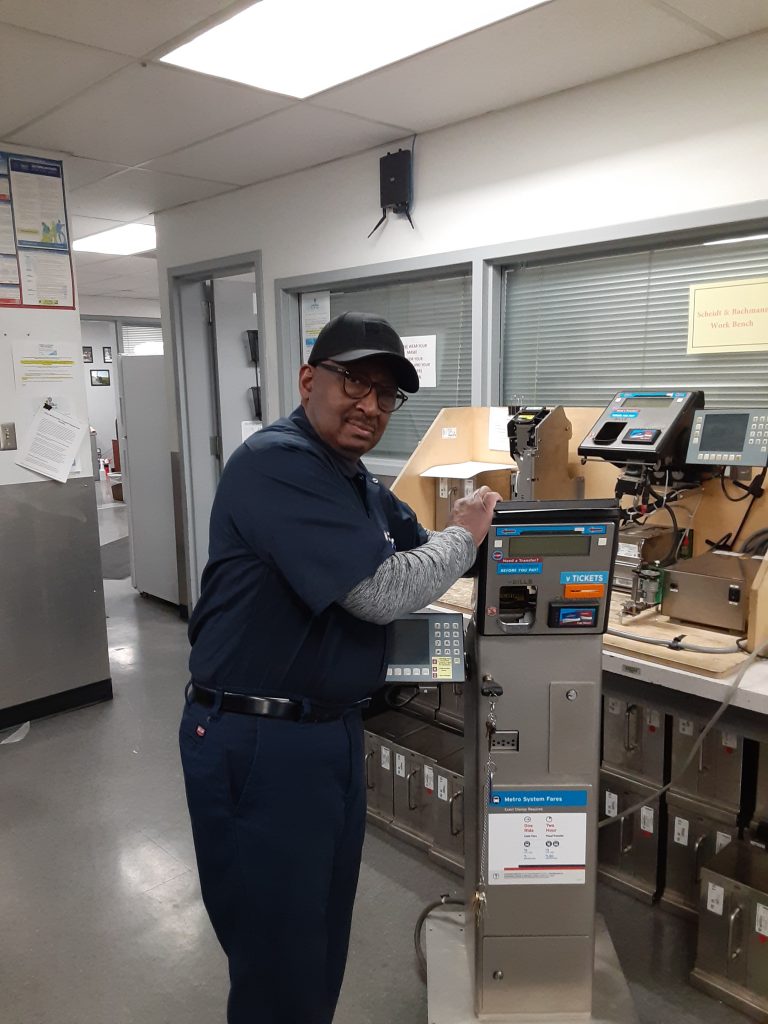 Earl is a Fare/Headsign Equipment Mechanic, one of several who work in the Revenue Operations and Maintenance Department at the DeBaliviere MetroBus Facility. He along with his fellow team members are responsible for responding to the calls that come in from the Bus Operations Control Center (BOCC) regarding fare collection equipment issues. Those issues include repairing malfunctioning fareboxes located on our MetroBus vehicles. When Earl receives a call from BOCC about a farebox that is not working properly while a bus is in service, he arranges to meet the operator and the empty bus at a scheduled layover point (usually at a Metro Transit center), either at the beginning or end of the bus route to repair the farebox. While the operator takes his or her scheduled break, Earl checks to see what the problem is. After a quick assessment, he fixes the issue so the farebox, operator screen and head or side signs remain in tip-top shape to accommodate our operators and customers. On occasion, Earl may have to remove a farebox for a major repair once the bus is returned to the facility. He also re-installs this equipment.
Earl has been with our organization for 41 years — since 1980! He began his career with Bi-State Development as a Bus Mechanic, working at all of the garages, including the 39th & Park, North Broadway, Hall Street, Belleville, South Broadway, original DeBaliviere and East St. Louis, and the Compton & Spruce Facility. He also worked in several other departments such as ROW Maintenance and Facility Maintenance. He was a painter and made repairs to the transit center buildings and to our facility buildings. Earl joined the Revenue Division as a Ticket Vending Machine Repairman when MetroLink opened in 1993. Prior to BSD, he worked at the Sunnen Products Company as a Machinist for two years.
Earl really enjoys his position. He said, "The job is most rewarding because I can see the immediate results from the repairs I make. The operators are appreciative because a working farebox makes their job a little easier and the customers also benefit when the fareboxes are in working order." Earl takes great pride in doing a great job.  He mentioned, "I am a team player and I get along with everyone." He also said, "My managers are great. They ask for my input and listen to what I have to say. My feedback seems important to them, and whenever they can, they implement the suggestions I make. I appreciate the fact that they have that type of confidence in me."
Before the pandemic, Earl was busy visiting all of the Jazz and Blues music festivals around town like Twilight Tuesdays in Forest Park and the Blues concerts at the Gateway Arch. He says he cannot wait until the pandemic subsides because he enjoys being outdoors and wants to attend some new festivals. Earl plans to spend more time with his three adult children, and plans to keep working until his youngest son graduates from college.