MoDOT Closes Ewing Avenue Bridge Over I-64 on February 1 for Six Months
If you use the Ewing Avenue bridge over Interstate 64 in the city of St. Louis, you will need to choose alternate routes and allow extra time for travel. Crews will close the Ewing Avenue bridge at 9 a.m. on February 1 to remove and rebuild the bridge over the interstate. The bridge will be closed for reconstruction for six months.
To travel to or from the Missouri MetroLink Yards and Shops (Ewing) facility during this project, you will need to use Compton and Spruce or Jefferson and Scott to detour around the construction work.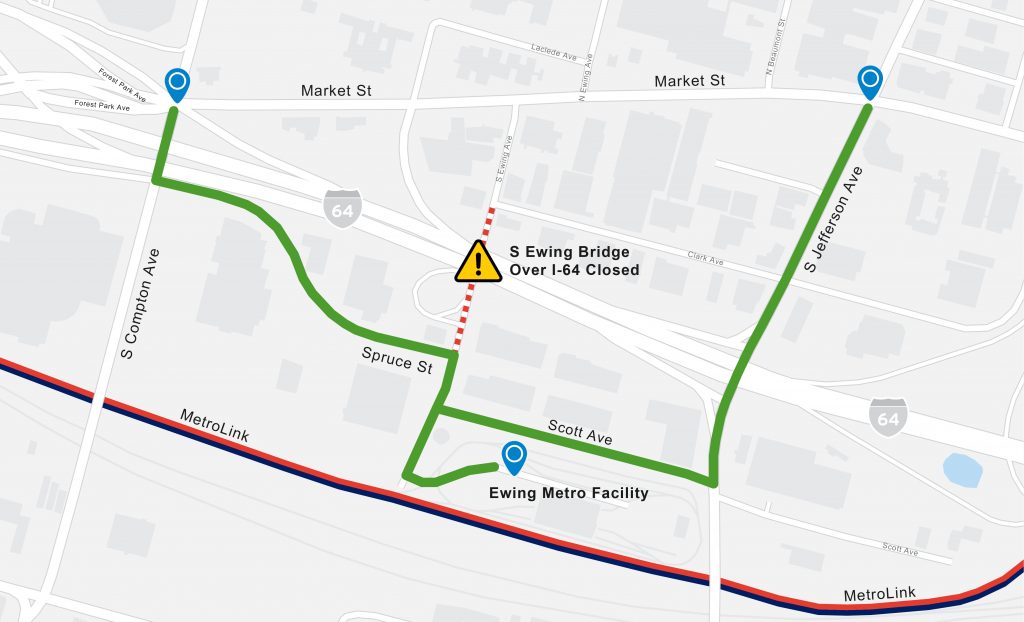 In addition, crews will close the ramp from westbound I-64 to Market Street, Exit 38B, at 10 a.m. Thursday, February 11, to stage equipment for demolishing the Ewing bridge. Crews will close ramps in both directions of I-64 between Grand and I-44 starting at 7 p.m. Friday February 12, with all lanes in both directions being closed by 8 p.m. for the demolition.  You should consider I-44 and I-70 as alternate routes to get into downtown or to Illinois to avoid the construction. Detour routes for the closure will be marked. Eastbound drivers will use Market/Bernard, Jefferson, Cass and I-70 to detour. Westbound drivers will use I-44, Jefferson and Market as detours.
All interstate lanes and the Market Street exit (Exit 34B) are scheduled to reopen by 5 a.m. on Monday, February 15.
For more details on the overall project, please visit: https://www.modot.org/i-64-jefferson-interchange.