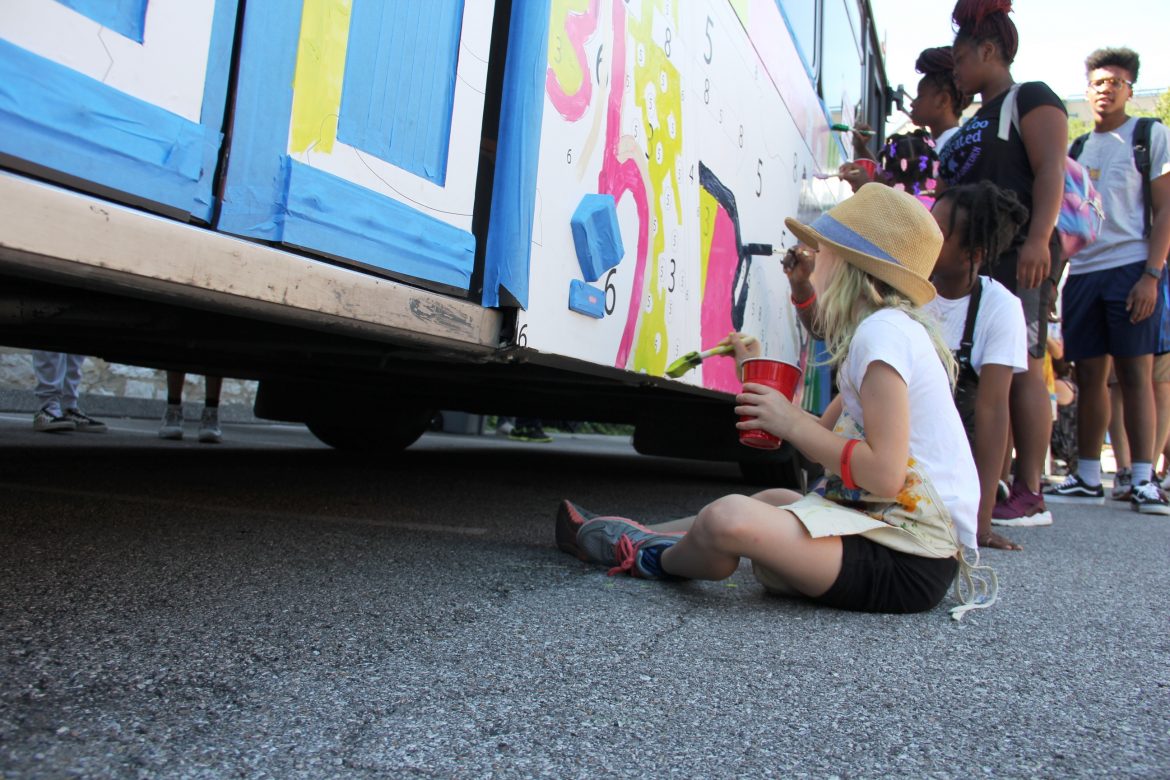 Arts in Transit Board Names New Officers
The Arts in Transit Board of Directors has elected new officers. Arts in Transit (AIT) is a non-profit subsidiary of Bi-State Development and facilitates public transit art programs in the eastern Missouri and southwestern Illinois region. The Board of Directors is responsible for the oversight of AIT and its overall strategic direction, as well as determining its major fiscal, personnel, organizational and programmatic policies.
The new slate of officers were elected this fall and assumed their positions immediately.
Chair: Tim Boyle, President of City Property Company
Vice Chair: Amanda Colón-Smith, Executive Director for Dutchtown South Community Corporation
Secretary: Thad Duhigg, Professor of Art at Southern Illinois University at Edwardsville
Treasurer: Peter Tao, Principal at TAO + LEE Associates, Inc.
Members selected to the Arts in Transit Board of Directors must include individuals from the visual arts and/or design, education and business communities. One member of the Bi-State Development Board of Commissioners must serve as an ex officio member, and Commissioner Aliah Holman currently serves in this capacity. All board members appointed serve without compensation, and are eligible to serve two consecutive two-year terms.
Metro Transit established the Arts in Transit program in 1986 to connect the community and public transit through art and art education. Since that time, it has commissioned more than 150 temporary and permanent public art installations throughout the St. Louis region, which enhance the commuting experience for Metro Transit riders and adds vitality and vibrancy to the neighborhoods served by the Metro system.
Arts in Transit also provides innovative programming to engage the community with public art and provide unique opportunities for local artists, including:
MetroScapes – a public art program where the work of local artists is annually selected for reproduction and displayed at more than 200 MetroBus shelters and locations throughout the region
MetroLines – an annual transit-focused poetry contest where the selected original work of local poets is displayed on MetroLink trains and MetroBus vehicles to enrich the public transit experience for riders
Art in Motion – an art-bus program conducted in partnership with local not-for-profit organizations and businesses where specially designed murals are painted the exterior of MetroBus vehicles, and the buses travel throughout the region in regular service for one year
For more information about Arts in Transit and its programs, visit artsintransit.org.
About Bi-State Development
Bi-State Development (BSD) owns and operates St. Louis Downtown Airport and the Gateway Arch Riverboats, as well as operates the Gateway Arch Revenue Collections Center and Gateway Arch trams. BSD is the operator of the Metro public transportation system for the St. Louis region, which includes the 87 vehicle, 46-mile MetroLink light rail system; a MetroBus vehicle fleet of approximately 400 vehicles operating on 79 MetroBus routes; and Metro Call-A-Ride, a paratransit fleet of 120 vans. BSD also operates the Bi-State Development Research Institute and the St. Louis Regional Freightway, the region's freight district.