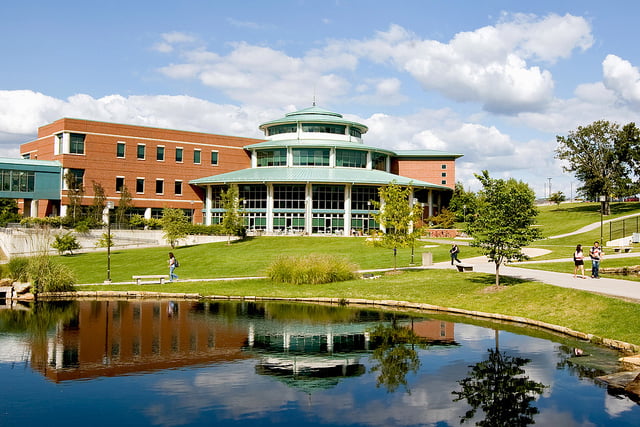 Registration Now Open for Chancellor's Certificate in Fundamentals of Economic Development
Public sector development staff, private sector specialists and anyone interested in community development have the opportunity in March and April to learn economic development concepts from senior practitioners in the industry. Bi-State Development has partnered with the Urban Land Institute and the Public Policy Administration Program of the University of Missouri-St. Louis (UMSL) to offer a Chancellor's Certificate Program in Fundamentals of Economic Development. Registration is now open for the eight-week program which will lead participants through all of the steps necessary to develop and implement economic development plans and projects in the public sector, and introduce the tools that attract and support development opportunities.
The certificate program consists of eight, three-hour modules that can be taken together or individually. Classes will be held on Thursday evenings from 6 p.m. to 9 p.m. at CIC@CET in the Cortex Innovation Community in midtown St. Louis. The non-credit Chancellor's Certificate can be earned by completing six of the eight modules, and there are 35 seats available for each module. The first module begins on Thursday, March 1. The eighth and final module is scheduled for April 26.
The Chancellor's Certificate Program is designed to help local government personnel, special taxing district staff, and elected and non-elected officials learn introductory economic and community development concepts. This is the third year the program has been offered.
Regional leaders in economic development serve as instructors, representing non-profit, public and private sector perspectives. Senior leadership from Bi-State Development, including President and Chief Executive Officer John Nations, Vice President of Strategic Initiatives Julianne Stone and Vice President of Economic Development John Langa, will serve as instructors and panelists for the program.
To register or to learn more about the Chancellor's Certificate in the Fundamentals of Economic Development program – including costs, schedule and descriptions of each module – visit umsl.edu/go/ecodev.
About Bi-State Development
Bi-State Development (BSD) owns and operates St. Louis Downtown Airport and the Gateway Arch Riverboats, as well as operates the Gateway Arch Revenue Collections Center and Gateway Arch trams. BSD is the operator of the Metro public transportation system for the St. Louis region, which includes the 87 vehicle, 46-mile MetroLink light rail system; a MetroBus vehicle fleet of approximately 400 vehicles operating on 83 MetroBus routes; and Metro Call-A-Ride, a paratransit fleet of 120 vans. BSD also operates the Bi-State Development Research Institute and the St. Louis Regional Freightway, the region's freight district.