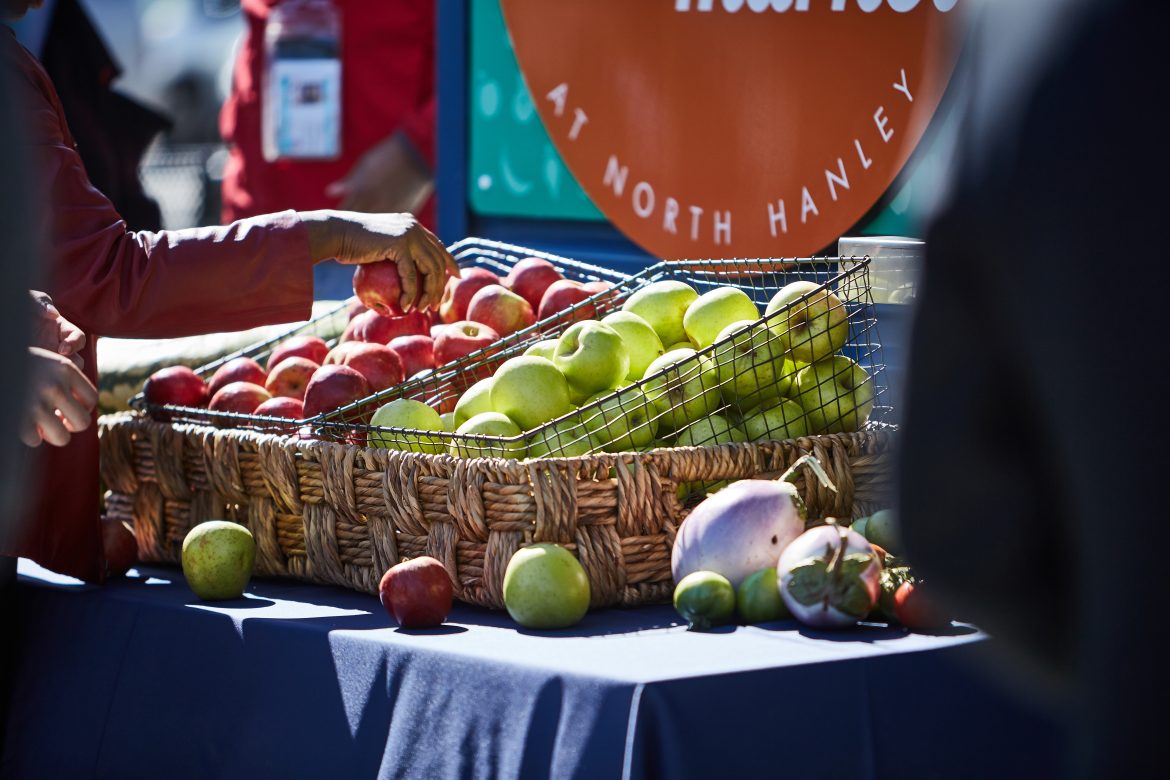 Nutritionists Will Highlight Healthy Food Options During Link Market Food Demonstrations at Metro Transit Centers
ST. LOUIS, MO: Nutritionists from the University of Missouri Extension will conduct monthly food demonstrations starting next week at two Metro transit center locations to reinforce the recently launched fresh food kiosk program's focus on nutrition and healthy food options. Weather permitting, these demonstrations will occur at the Link Markets from 2 p.m. to 5 p.m. on Wednesday, December 20 at the North Hanley Transit Center, and from 2 p.m. to 5 p.m. on Thursday, December 21 at the Wellston Transit Center. The North Hanley Transit Center is located in Berkeley at 4398 Hanley Road, and the Wellston Transit Center is located 6402 Plymouth Avenue in Wellston.
"If Metro riders and people from the surrounding neighborhoods like the taste of the food prepared during the demonstrations, they will be more apt to purchase Link Market products and prepare it at home," said Leslie Bertsch, a University of Missouri Extension Nutrition and Health Education Specialist. "When a consumer learns how to fix fresh vegetables and fruits and knows how the dish will taste, they are more likely to enjoy it as part of a nutritious home-cooked meal."
A vegetable hash will be the first recipe featured during the December food demonstrations. The hash is made from carrots, potatoes and onions, all of which are available for purchase at very affordable prices at the Link Market. The recipe will also include other staples like canned tomatoes, cumin, paprika, and salt and pepper.
Bertsch said samples of the vegetable hash will be offered at the conclusion of each food demonstration, which will give commuters a better idea of how some produce will taste when used in a recipe. "Since riders have the opportunity to try some of the food before they make a purchase, it will help reduce any fear they may have about wasting their money on something they may not even enjoy eating," she said.
"Our hope is riders see the Link Market as a healthy convenience," said John Wagner, Director of the Bi-State Development Research Institute. "The Bi-State Development Research Institute has partnered with the University of Missouri Extension so that nutritionists may use fresh food from the kiosks to create dishes that Metro riders and nearby residents may taste and possibly become inspired to make themselves."
The Link Market food kiosk pilot program is the result of a partnership with the Bi-State Development Research Institute, a non-profit enterprise of Bi-State Development, and the Missouri Foundation for Health, which is funding the program through a nearly $584,000 grant.
In 2018, the University of Missouri Extension nutritionists will provide education sessions on one Thursday a month at the Wellston Transit Center and on one Wednesday a month at the North Hanley Transit Center, weather permitting. Transit users will be able to ask questions and learn more about food nutrition, health eating, and how to incorporate fruits and vegetables into their meals — even on tight budgets.
"Our overall mission at the University of Missouri Extension is to educate Missourians," Bertsch said. "We certainly see the food demonstrations at the Link Market as an opportunity to educate riders and area residents about healthy eating, an important factor to one's overall health."
For more information about nutrition and wellness, contact Leslie Bertsch at email hidden; JavaScript is required or visit http://extension.missouri.edu/hes/nutritionhealth/index.htm.
The new Link Market food kiosks at the North Hanley and Wellston Transit Centers offer fresh fruits, vegetables and other healthy food staples for purchase. The kiosks are open Wednesday through Sunday from 11 a.m. to 7 p.m., and accept cash, credit and EBT payments. More information about The Link Market can be found at www.linkmarket.org.
About the Missouri Foundation for Health
Missouri Foundation for Health is a resource for the region, working with communities and non-profits to generate and accelerate positive changes in health. As a catalyst for change, the Missouri Foundation for Health improves the health of Missourians through partnership, experience, knowledge and funding.
About Bi-State Development
Bi-State Development (BSD) owns and operates St. Louis Downtown Airport and the Gateway Arch Riverboats, as well as operates the Gateway Arch Revenue Collections Center and Gateway Arch trams. BSD is the operator of the Metro public transportation system for the St. Louis region, which includes the 87 vehicle, 46-mile MetroLink light rail system; a MetroBus vehicle fleet of approximately 400 vehicles operating on 83 MetroBus routes; and Metro Call-A-Ride, a paratransit fleet of 120 vans. BSD also operates the Bi-State Development Research Institute and the St. Louis Regional Freightway, the region's freight district.