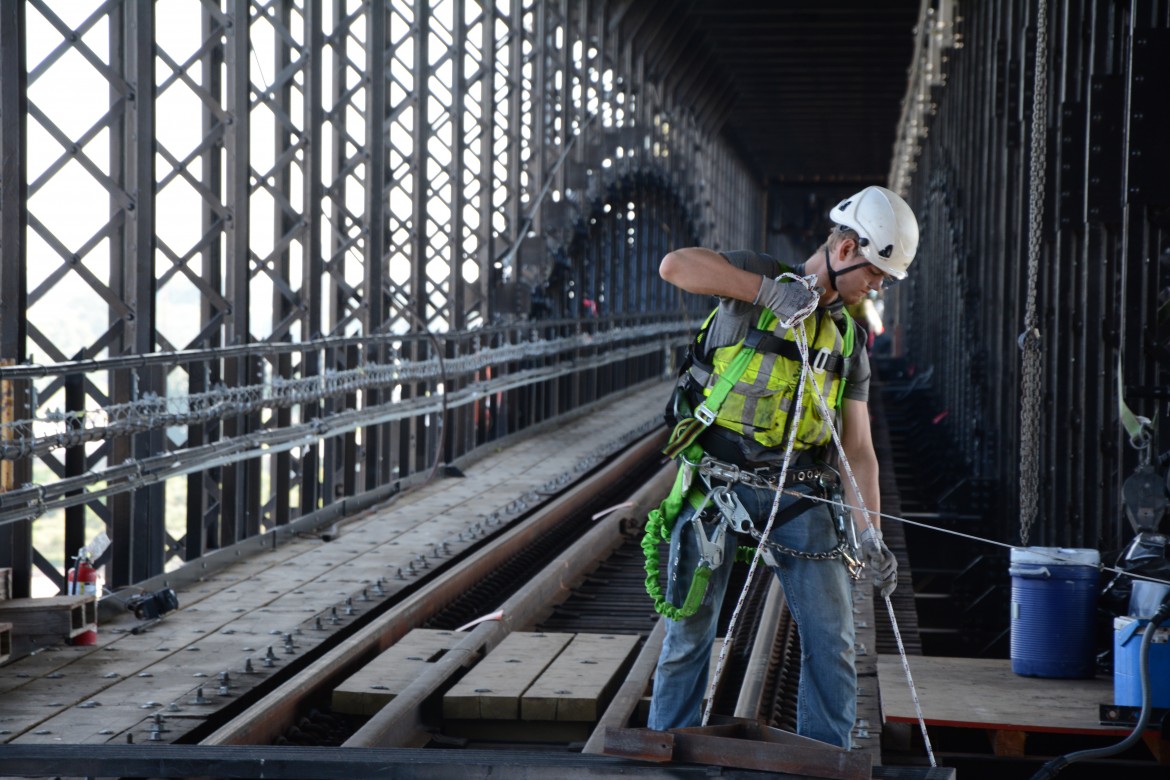 Metro transit is committed to identifying and supporting regional projects that improve the well-being of passengers and protect the investment the bi-state region. In 2015, we continued building on those goals. Here is a look at some of key projects and enhancements that we completed or worked on over the last 12 months:
Eads Bridge Rehabilitation
Metro reached the halfway point of the Eads Bridge Rehabilitation Project in December 2014. In 2015, crews made substantial progress on the rehabilitation and restoration of the south side of the bridge: performing structural repairs to the bridge superstructure, removing old paint and rust and replacing it with a new coating system, replacing the MetroLink structural floor system, and updating the MetroLink power system with overhead conductor rail. The project is scheduled to be wrapped up later this year. Currently, MetroLink trains are operating on one track across the bridge. When the work is completed, trains will once again run on both tracks across the historic Eads Bridge. That will improve service for passengers and minimize the impact of delays caused by construction and maintenance and extend the lifespan of the bridge another 50 years.
MetroLink Power and Signal System Upgrades
Throughout the last year, MetroLink crews made upgrades to the switches, feeder wires and other critical components of the light rail signal and power systems. The upgrades were necessary to ensure safe, efficient, reliable operation of the light rail system.
In addition to the Eads Bridge, MetroLink crews also installed overhead conductor rail (OCR) through Laclede's Landing into downtown St. Louis. OCR was developed specifically for use in tunnels and bridges where there is limited space. With fewer components than the standard overhead catenary system, OCR is easier and less costly to maintain and repair. Metro is believed to be the second transit system in the United States to install this leading-edge technology.
North County Transit Center
North County Transit CenterThe new North County Transit Center is nearing completion. In 2015, Metro worked with C. Rallo Contracting crews to transform a former auto dealership at 3140 Pershall Road in Ferguson, Mo., into a critical transit hub for North St. Louis County–one of Metro's fastest growing transit markets. The new transit center will transform MetroBus service in North St. Louis County by providing connections to more destinations, faster transfers, more direct and frequent service. In addition, it will provide enhanced passenger amenities–including an indoor passenger waiting area, public restrooms and concessions, a free Park-Ride lot, and digital messaging boards with real-time MetroBus arrival times. The North County Transit Center is scheduled to open in March of this year.
MetroLink Platform Enhancements
The safety of our transit passengers is our top priority so we are always looking at ways to improve passenger safety near MetroLink trains and stations. In 2015, crews have completed the installation of new tactile safety tiles at almost every station platform on the Missouri MetroLink system. Once funding is secured, crews will finish the Missouri stations, and focus on the remaining Illinois Stations. In addition, work has started at the Union Station MetroLink Station to improve pedestrian access to the platform–a program that will expand to several other MetroLink stations in the future.
New Access at Brentwood I-64 MetroLink Station
BrentwoodFunded by the Hanley Road Corridor Transportation Development District and managed by the City of Brentwood, this project created a shorter and more convenient path for Metro passengers between the Brentwood I-64 Station and Dierbergs Market and other businesses at Brentwood Pointe.
Wood Rail Tie Replacement
MetroLink successfully completed the first phase of the Wood Rail Tie Replacement project in 2015—with nearly 10,000 wood ties being replaced over the course of 14 weeks.
Lambert Airport Terminal #1 MetroLink Station Rehabilitation
Lambert St. Louis International Airport managed and funded improvements to the Terminal #1 MetroLink Station this past summer. Crews repaired concrete, repainted the station, added tactile safety strips to the station platform, upgraded the electrical system and installed new lights to make the station brighter. This was the first major rehabilitation of the station since it opened in 1994.
Future Projects
A new MetroLink station is being planned near Boyle and Sarah in the Cortex District in midtown St. Louis, and construction will begin later this year for a new transit center at the Civic Center MetroLink Station. We will keep you posted as those projects get going.