Coronavirus (COVID-19) Information
Information on Coronavirus (COVID-19)
Bi-State Development's (BSD) Department of Public Safety continues to track health conditions using the guidance of the World Health Organization and the U.S. Centers for Disease Control and Prevention. BSD continues to adapt and evolve our emergency management procedures to address the ongoing coronavirus outbreak. The safety of our team members and our customers remains a top priority.
Find a COVID-19 Vaccine
COVID-19 vaccines are free and available to anyone who wants one. Vaccines.gov works clinics, pharmacies and health departments to provide accurate and up-to-date information about vaccination services in your area. Find a vaccine location near you, then call or visit the website of one of the providers listed to make an appointment.
Get Help
Get answers to questions or help finding a vaccine near you.
Help is available in English, Spanish, and many other languages.
Disability Information and Access Line (DIAL):
email hidden; JavaScript is required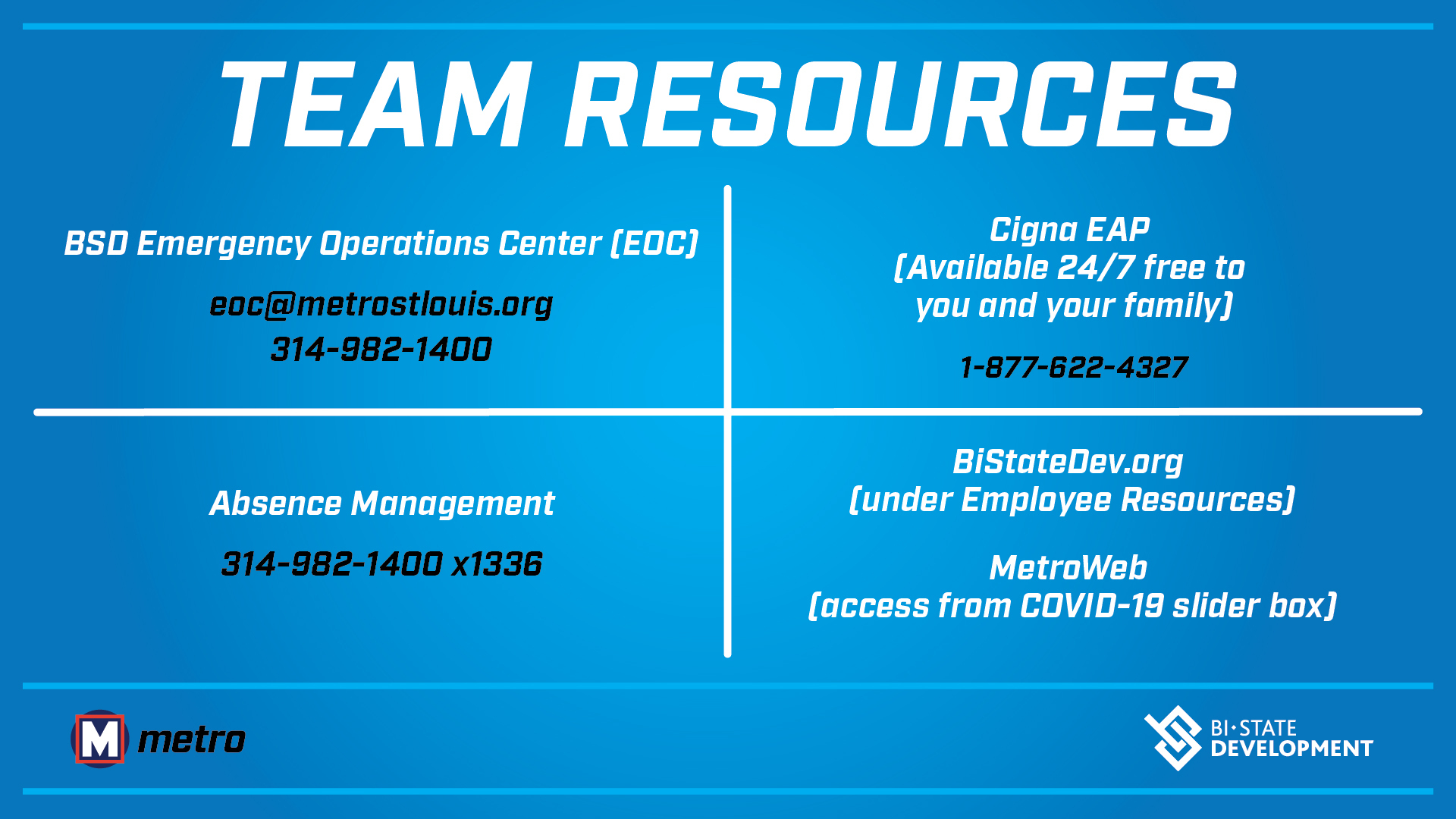 Workplace Safety:
Minimizing the number and frequency of face-to-face meetings with larger groups in areas with active coronavirus transmission.
Encouraging virtual meetings whenever possible.
Communicating that team members have the option of participating in meetings by phone based on their personal risk decision.
What Our Team Members can do:
We also ask everyone to continue to follow good hygiene practices
Cover coughs or sneezes with your elbow. Do not use your hands!
Wash hands often with soap and water for at least 20 seconds.
Soap and water should be your primary source of washing. Use an alcohol-based hand sanitizer if soap and water are not available.
Clean surfaces frequently, including countertops, light switches, cell phones, remotes, and other frequently touched items.
Visit the CDC website for Common Sense Tips to Fight Flu & Colds Information
Bi-State Development | Metro Emergency Operations Center Updates
We will be communicating regularly (daily and weekly) with CDC, Regional and Local Health/Public Health Officials. Communication with regional and state public health officials and public safety partners reports risk to the general public remains low.
Metro's Chief Safety Officer and General Manager of Public Safety will review virus considerations within the Emergency Preparedness Program Plan and Continuity of Operations plan, and activate if directed.
If you believe you are experiencing symptoms see your personal physician. Physicians know how to determine if individuals meet the risk classifications for the virus and the required testing and assessment protocols.
COVID-19 All Team Notices – 2020